Clickatell vs Twilio SMS Comparison
Clickatell and Twilio have SMS gateway services that are high respected within the text message industry of not only America, but also world wide. SMS marketing is extremely important for any business, whether this be for small, medium, or large sized enterprises, as this two-way communication is essential to connect with customers.
Both Clickatell and Twilio use SMS gateway API software that are able to integrate with web applications or mobile phones. This enables businesses to easily and efficiently send and receive mass text messages for uses such as appointment reminders, alerts, campaigns, short code verifications and more.
Clickatell vs Twilio SMS Features
The results from our Clickatell review and Twilio review, found that both mass text message providers offer a great range of SMS features, including:
Send and receive mass volumes of SMS messages globally
Short codes and long numbers
Dedicated phone numbers
User-friendly web interface
Multi-channel integration with a single API
Real-time delivery reports
Email to SMS
MMS


Pricing Plans Of Clickatell vs Twilio
Overall, whilst Clickatell and Twilio both have great SMS gateway services, it should be noted that Clickatell is a more premium provider, that has both set up fees and monthly fees, depending on the services a business requires. On the other hand, Twilio has a pay-as-you-go structure that is suitable for smaller businesses, as they only have to pay for what they need.
As a more premium provider of the two, Clickatell offers SMS plans in which businesses can pay a monthly fee. This fee is not outlined heavily in their website. Instead, there is a SMS pricing estimator which enables businesses to get a personalised quote, depending on the volume of SMS messages required, and the type of service they require (standard delivery, critical delivery, or two-way messages). Clickatell also claims on their site that businesses can try their services for free. Shown below is an example of a pricing schedule that could be offered to a business wishing to send 10,000 text messages per month.


To get your personalised quote on SMS messages, visit their website below.
Twilio has a pay-as-you-go pricing structure meaning that businesses can pay for the amount of the text messages they need (rather than being in a monthly plan). Twilio's SMS charges start from $0.0075 per SMS message for the first 5 million messages, and can be as cheap as $0.0005 for over 1 billion text messages. However, incoming text messages will cost businesses the same amount has it is to send SMS messages. Short codes also start from $0.0075  and MMS start at $0.0100.
Reliability & Reputation Of Clickatell vs Twilio
Reliability of SMS providers is measured by the level of up-time SLA guarantee promised by the SMS gateway.
Service Level Guarantee
Clickatell does not appear to offer a full up-time guarantee on their site, however do state that whilst they cannot promise a 100% SLA 100% of the time, they will try their best to get the results their customers require. Twilio is more transparent with this level of reliability, with a 99.95% SLA guarantee, meaning that American business's can assure that their text messages will be sent almost 100% of the time.
Supported Telecommunication Providers
Clickatell is supported by the best possible telecommunication providers within the US to ensure that text messages are delivered promptly and successfully. These providers include T-Mobile, AT&T, Cellcom, iWireless, and more.
Policies & Regulations
Clickatell clearly states that they are anti-spam compliant with USA regulations, including those states by CTIA – The Wireless Association. Twilio suggests that they are also anti-spam compliant and have their privacy policies in place.
Reputation
Twilio services highly renowned businesses including AirBnB, American Red Cross, Nordstrom and Lyft. Clickatell also has a reputable clientele list with the following customer success stores:

Clickatell vs Twilio Customer Support
Both Clickatell and Twilio offer 24/7 support with contact forms, FAQ pages, and blogs. Twilio also offers a help centre which provides a central means for customers to get all of their SMS queries answered. Twilio also offers support plans as an extra SMS service, with a money back guarantee if businesses do not find their services effective. The benefits of these support plans are outlined below.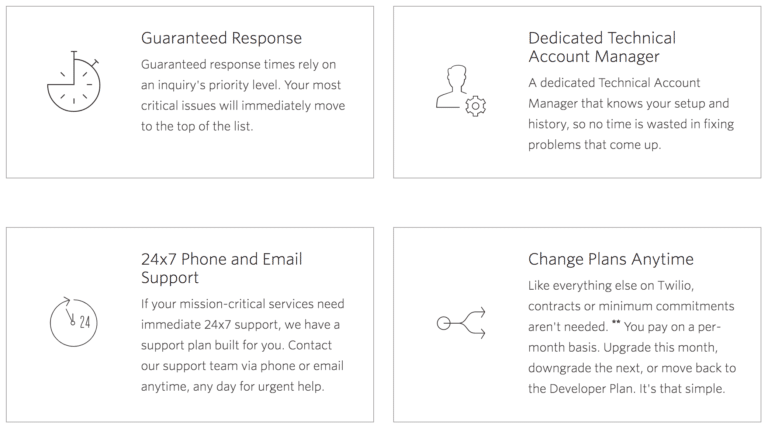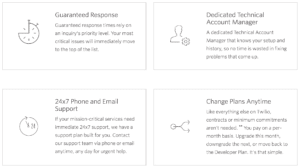 In terms of customer ratings on Trustpilot, Clickatell rates 3.5 out of 5, and Twilio is rated higher with a 4 out of 5. Both of these ratings are high amongst the mass text message industry.
About SMS Comparison USA
SMSComparison.com is owned by a team of SMS experts who have previously worked in the mass text message industry for a number of years. After leaving the industry, the authors felt that there was a need for a simple way for American businesses to compare the various features and services offered by mass text message providers. Thus, this comparison site was formulated to help prospective businesses choose the SMS gateway provider that is best suited to their SMS marketing requirements.
The Clickatell review and Twilio review, and other SMS gateway provider reviews, were all created completely independently, and the information has been found from the provider's websites, and prior industry knowledge. Therefore, should any of the information be out of date, please get in contact with the authors by clicking here, and actions will be taken to correct these errors.
To learn more about the SMS industry, read our SMS gateway and mass text message reviews.