ClickSend vs Clickatell SMS Comparison
SMS marketing services are essential for USA businesses to successfully communicate with their customers in 2021. Mass text messaging can be utilised for small, medium, and large sized businesses for uses such as booking confirmations, appointment reminders, campaign promotions, and much more.
ClickSend and Clickatell are two highly reliable SMS gateway providers for American businesses, offering a range of SMS features through a global SMS gateway API software. Both ClickSend and Clickatell are more premium providers, however offer a range of affordable SMS features, enabling two-way communication through online platforms to reach the end user's mobile phone.
Features Of ClickSend vs Clickatell
Based on our ClickSend review and Clickatell review at SMS Comparison, the following key features are shared amongst the two leading mass text message providers:
Online platforms to send SMS from web-enabled computers
Two-way communication worldwide
Omni-channel messaging
Email to SMS
Customisable SMS API
Dedicated phone numbers
Short codes
Real time reporting
Automation of reminders
Both SMS gateway providers offer a customisable SMS gateway that is able to seamlessly integrate with a business's existing systems. With the help of ClickSend and Clickatell, American businesses are able to send bulk SMS messages anywhere around the world.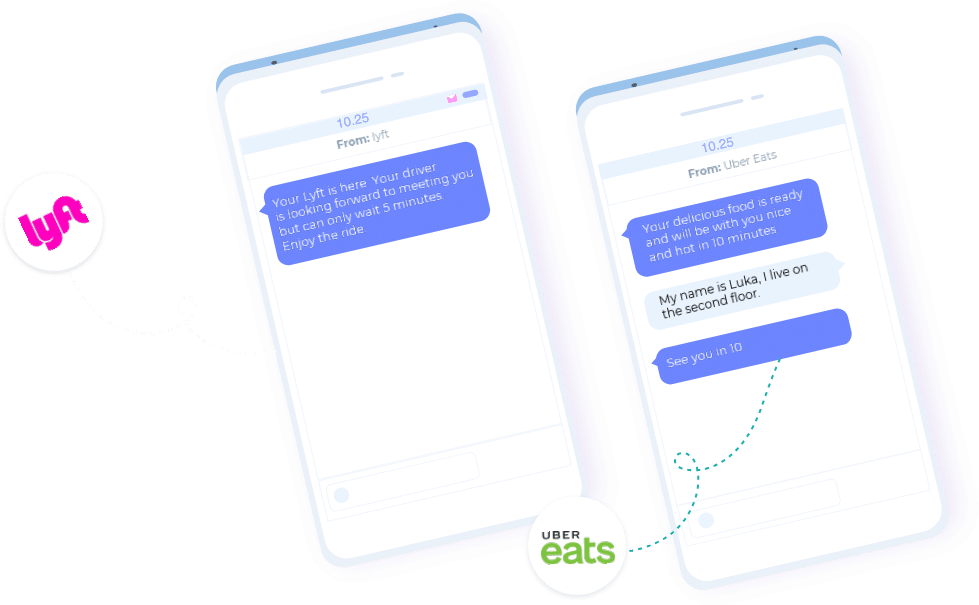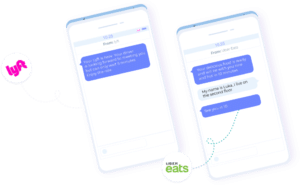 ClickSend vs Clickatell Prices & Plans
ClickSend and Clickatell both offer differing pricing structures. ClickSend has a pre-pay, or pay-as-you-go pricing structure, which enables businesses to only purchase the SMS credits that they need. These prices start at $0.0130 per text message when purchasing under 2,000 text messages. The higher the volume of text messages purchased, the lower the cost per text message. A key advantage of ClickSend is their price match guarantee, which most text message providers do not offer. Additionally, inbound text messages are always free, meaning that customer responses are at no extra charge to the business. For ClickSend's full pricing structure, view the table below or visit the website.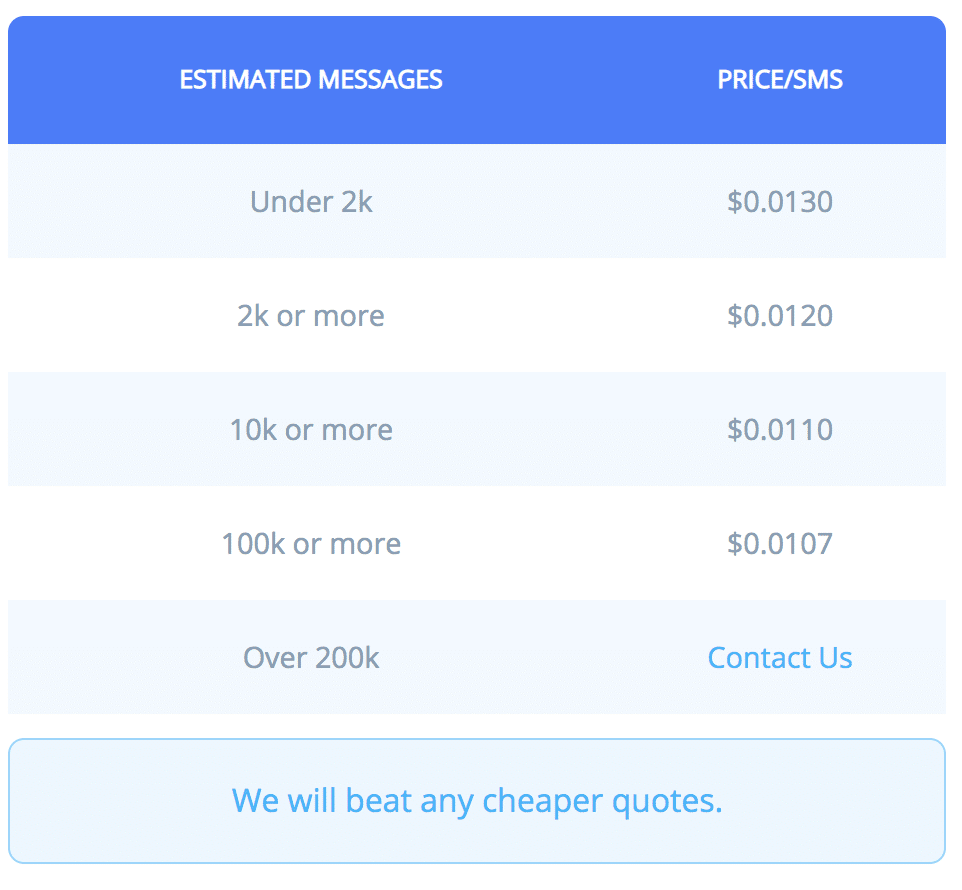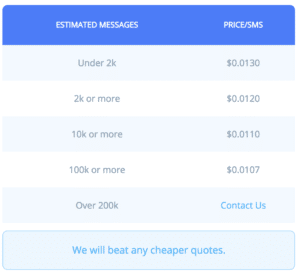 On the other hand, Clickatell is a premium SMS gateway provider which offers a monthly pricing plan structure. Businesses can use their pricing estimator online to get a personalised quote depending on the type of service required and the amount of text messages the business needs.
Both SMS gateway providers offer a fee trial for any prospective business wanting to try out their various SMS services.
Reliability & Privacy Policy Of ClickSend vs Clickatell
ClickSend and Clickatell both claim that they will utilise the best telecommunication providers to ensure that text messages are delivered successfully when required through premium routes. These American telecommunication providers include AT&T, T-Mobile, Verizon, and more. Therefore, businesses can ensure that their messages are being sent via adequate channels.
Reliability is also measured by what is known as an up-time SLA (Service Level Agreement) guarantee. ClickSend states that they have a 100% up-time SLA guarantee, meaning that businesses can be sure that their messages will be sent and ClickSend will be available 100% of the time. Clickatell does not state this level of agreement, however does state that they will try their best to achieve the results their clients require.
Both SMS gateway providers state that they are compliant with all regulations within the American SMS and marketing industry. Such regulations include the Telephone Consumer Protection Act (TCPA), the CAN-SPAM Act and the CTIA – The Wireless Association. This ensures that all information and data that is shared with these mass text message providers will be protected.
ClickSend vs Clickatell Customer Support & Reviews
Customer Support Services
Both ClickSend and Clickatell provide 24/7 customer support. Contact information include phone numbers, online enquiry forms, FAQ pages, and community support forums. ClickSend also offers an instant online messaging option which enables customers to get their questions answers instantly.
Customer Reviews
According to Trustpilot, ClickSend is rated a 4.5/5, whilst Clickatell is rated a 3.5/5 out of thousands of global customer reviews.
Being such large global enterprises, these SMS providers have notable case studies from clients around the world. ClickSend's customer base includes Intel, McDonalds, and Siemens (plus more shown below). Whereas Clickatell has clientele which include IMDb, IKEA, and Target.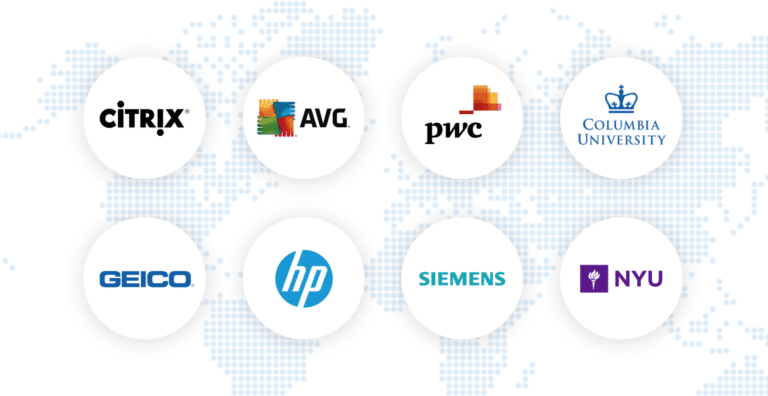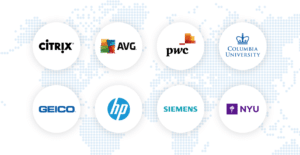 About SMS Comparison Reviews
SMSComparison.com is a global website which analyses and compares the best SMS gateway providers for businesses around the world. The reviews and comparison tables were formulated by a team of experts who have had previous experience in the SMS industry and understand the difficulty of comparing the various factors to choose the right SMS provider. Thus, this site was created in order to provide a free and simple way to compare the features, prices, customer reviews, and more of these mass text message providers.
If any of the information or data in the website is incorrect or out of date, please feel free to contact the authors here, and changes will be made immediately.
Discover our our complete SMS gateway comparison or mass text message comparison to learn more about the leading SMS gateway providers. It is hoped that this website will help businesses to choose the SMS marketing provider that is best suited to their needs.