Comparing ClickSend & MessageBird
ClickSend and MessageBird are two of the most reliable mass text message providers available to businesses in the USA and worldwide. The two SMS gateway providers offer a range of SMS marketing services that enable businesses to send bulk SMS to target audiences. These services can be used for booking and appointment reminders, promotional campaigns, and much more.
ClickSend and MessageBird offer two-way communication platforms through sophisticated SMS gateway API software. This enables businesses to send and receive text messages from a mobile phone or web-enabled computer.
Overall the two SMS providers utilise both direct and premium routes to send mass text messages around the world.
Features Of ClickSend vs MessageBird
Our ClickSend review and MessageBird review found that the two SMS gateway providers offer a range of SMS features, including:
Two-way communication with customers
Omni-channel messaging systems
Seamless integration of SMS API softwares
Short codes
Dedicated numbers
Tracking history and real-time delivery reports
Automation of reminders and notifications
Email to SMS
Global coverage
ClickSend and MessageBird have global API softwares which are able to integrate with a business's existing systems (including emails). The provider's also offer the ability to monitor their SMS actions to analyse the success rates of their SMS marketing campaigns.


ClickSend vs MessageBird SMS Pricing Structure
ClickSend and MessageBird both have competitive pricing structures. ClickSend has prices per text message starting at $0.0130, whilst MessageBird has lower prices starting from $0.005 per text message. The price per text message is lower has larger volumes are required (as shown below for ClickSend), and therefore it is in the business's best interest to purchase bulk SMS messages at any given time. What is great about these text message providers is that inbound messages are always free.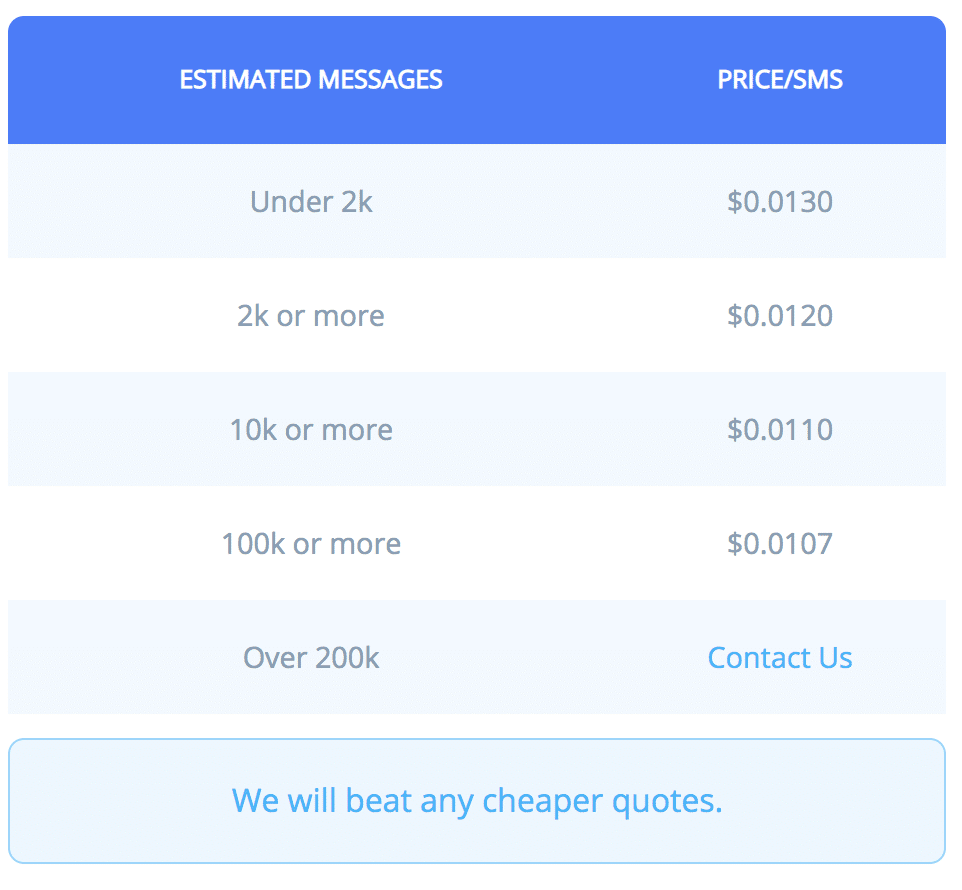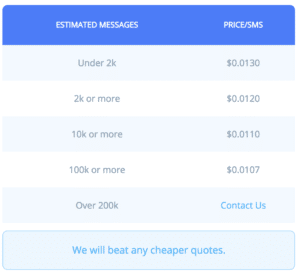 Both text message providers offer short codes and dedicated phone number for additional costs. Overall, MessageBird's costs start at a lower price when compared to ClickSend, however due to ClickSend's price match guarantee, this trumps any other pricing schedule offered by SMS gateway providers.
To discover more about the prices offered by ClickSend, visit their website below.
View Review >>Visit Website >>
ClickSend vs MessageBird Reliability & Security
Both SMS gateway providers offer the best possible routing system to send mass text messages to the end user's mobile phone. These routes include premium routes (American-based telecommunication providers), or hybrid routes (both American and overseas telecommunication providers).
Reliability of the SMS gateway API's are measured by the up-time SLA guarantee that the provider claims. ClickSend states a 100% up-time SLA guarantee, which is the highest amongst all the SMS providers analysed on this website. This is extremely reassuring for businesses, as they know that their text messages will be sent to their target audiences within a timely manner. On the other hand, MessageBird has services available 99.95% of the time, which is still a very high SLA score.
ClickSend has their own privacy policy and is compliant with the American regulations mobile and SMS marketing, including the Telephone Consumer Protection Act (TCPA), and the CAN-SPAM Act. MessageBird also have a privacy policy and claim that they are compliant with the Gramm-Leach-Bliley Act (GLBA) and the Health Insurance Portability and Accountability Act (HIPAA).
This assures that all citizen's privacy is protected and no security is breached.
ClickSend vs MessageBird Customer Support Services
Customer Support
ClickSend and MessageBird both offer 24/7 support for the existing and prospective clients. They provide contact phone numbers for American based businesses, as well as international numbers for those overseas. Both providers also offer FAQ pages and other tools to help businesses get their questions answered without having to directly contact the SMS provider. ClickSend also provides an online chat function which is highly useful for any businesses wishing to enquire about their services. MessageBird states that they have offices located around the globe, which enables them to be available to answer any question, no matter what the time zone. Both SMS gateway providers offer a free trial to try their various SMS features and services.
Customer Reviews & Case Studies
According to various reviews on Trustpilot, ClickSend is rated a 4.5/5, whereas MessageBird is rated a 3/5.
Both mass text message providers have highly notable clientele based around the globe. ClickSend's clients including McDonalds, Intel, and Siemens.


About SMS Comparison Reviews
SMSComparison.com is a website which compares the leading SMS gateway providers that are available to American businesses. The comparison tables and SMS reviews were created by a team of experts, who have previously worked in the SMS field and understand the difficulty of analysing and choosing mass text message providers. Therefore, this website was created independently and free of charge for American businesses to browse in an easy and efficient way.
Should any of the information on this website be incorrect, we wish that you contact the authors here, and corrective changes will be made.
To learn more about America's best SMS gateway providers, explore our SMS gateway comparison or mass text message comparison.