ClickSend vs SMSGlobal For USA Businesses
Based on our ClickSend review, and SMSGlobal review, the experts at SMS Comparison found that the two mass text message provider's were amongst the best in the world. Both SMS providers offer a great range of services to businesses in the USA and globally. These services are essential for businesses to connect with customers in a meaningful and impactful way, as text messaging continues to rise in 2021.
The SMS API software is able to integrate with businesses existing softwares to enable two-way communication between business and consumer. Such SMS services can be utilised in many ways including:
Promotional campaigns
Appointment reminders
Booking systems
Staff rostering
Sending short codes
Time-sensitive messaging


ClickSend vs SMSGlobal SMS Features
When comparing the SMS features offered by ClickSend vs SMSGlobal, the two mass text message providers offer a range of amazing features. These include:
Two-way communication
Omni-channel messaging
Online or Web SMS platform
Email to SMS
Seamless integration of SMS API softwares
MMS gateway
Short codes
Dedicated numbers
Tracking history
Delivery reports
Message automation
Overall, ClickSend and SMSGlobal have efficient SMS gateway API that is able to integrate with the businesses existing systems and have everything secured within the single place. This enables businesses to send large volumes of text messages at any given time, anywhere around the world.


ClickSend vs SMSGlobal Pricing
When comparing the SMS pricing structures of ClickSend and SMSGlobal, the two offer a pay as you go pricing structure, which means businesses will only pay for the amount of SMS credits they need. ClickSend's prices start at $0.0130 per text message when purchasing under 2,000 text messages. Prices for over 100,000 text messages or more starts at $0.0107, however if businesses wish to purchase over this amount, they are able to contact ClickSend for even cheaper quotes. What is great about this SMS provider, is that they claim that they will beat any cheaper quotes, meaning they will always be a highly competitive mass text message provider. Additionally, inbound text messages are always free, and ClickSend offers a free trial for businesses to experiment with their services before committing.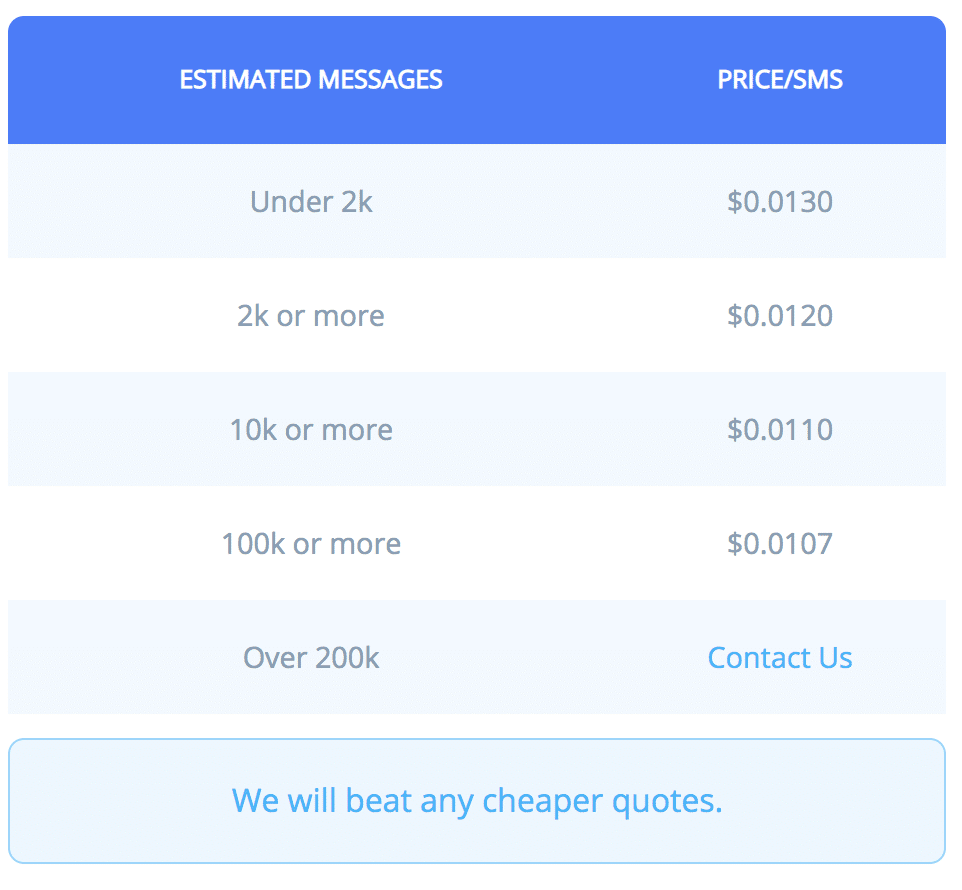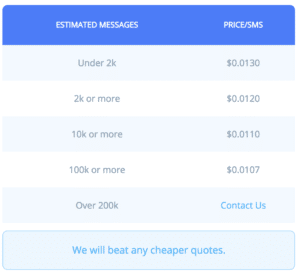 The full pricing structure of ClickSend can be viewed in the table above, or businesses can visit their website below to learn more information.
On the other hand, SMSGlobal offers slightly higher rates, with prices for 355,000 or more being $0.014 per text message. However, this provider also offers a free trial and provides custom wholesale packages for those wishing to send large volumes of text messages. SMSGlobal offers a charge of $0.022 per text message for 1 or more text messages, meaning that local or smaller sized businesses are able to simply purchase a small amount of credits at any given time.
ClickSend vs SMSGlobal Reliability & Security
ClickSend and SMSGlobal will utilise the best routes for the SMS message to reach the end user's mobile phone. These include premium routes (using American telecommunication providers), or hybrid (meaning the use of both American and overseas providers).
The reliability of the SMS provider is measured by the Service Level Agreement (SLA) guarantee that the provider states. ClickSend claims a 100% up-time SLA guarantee, whilst SMSGlobal is backed by their 99.99% SLA. This level of reliability is the highest amongst the leading mass text message providers available to American businesses, meaning that when businesses use ClickSend or SMSGlobal's services, their successful services will be available at all times.
ClickSend and SMSGlobal are both anti-spam compliant with American regulations, as well as regulation across the globe. These include the Telephone Consumer Protection Act (TCPA), and the CAN-SPAM Act. The mass text message providers also have their own privacy policy, meaning that businesses can be assured that the privacy of their data is protected.
Customer Support ClickSend vs SMSGlobal
ClickSend and SMSGlobal offer round the clock customer support for existing and prospective clients. Both SMS gateway providers have offices around the globe, meaning their support team is able to assist at any time. ClickSend and SMSGlobal have American based phone numbers, as well as web chat options, social media links, Skype, FAQ pages, and online enquiry forms. These are amongst the most efficient and effective customer support services amongst all mass text message providers.
ClickSend vs SMSGlobal Reviews & Case Studies
According to Trustpilot, after thousands of reviews, ClickSend is rated a 4.5/5, and SMSGlobal is rated a 4/5 amongst their existing customer base.
ClickSend's Customers
ClickSend's clients include McDonalds, Siemens, and Intel.


SMSGlobal's Customers
SMSGlobal has a client base which includes IBM, Microsoft, and Etihad Airways.


About SMS Comparison
SMSComparison was created by a team of experts who have previously worked in the mass text message industry and have deep knowledge in the field. During their experience, the authors identified the difficulty of choosing the right SMS provider that will meet a business's needs. Therefore, the authors have created this independent comparison website and review to provide a simple way to analyse the leading mass text message providers for USA businesses, free of charge.
In an event that the information on this site in incorrect, please contact the authors here, and alterations will be made.
To become more knowledgable on the SMS gateway providers and their features, prices, and services, view our SMS gateway comparison or mass text message comparison.