WholesaleSMS is the Recommended Email to SMS Provider
WholesaleSMS offers an industry leading Email to SMS service, with full email client integration with no added software required.
Purposed for smaller to large volume sends, WholesaleSMS allows to simply drop the mobile number of a contact into an Email to SMS format.
If interested in return sends from customers, WholesaleSMS allows to view both one's sent and received messages via a simple email system.
Here are some reasons WholesaleSMS is the recommended Email to SMS provider:
Full integration with your email client
2-way discussion ability to view sent and received messages
No contracts or ongoing fees
Quick gateway means fast message delivery
As a result of a detailed comparison of features of various reputable American SMS providers, an Email to SMS Provider Comparison Table was developed which shows that WholesaleSMS offered the best value.

Should I be using Email to SMS?
Email to SMS is considered by many to be the easiest way to send and SMS from a computer without having to add functionality to an existing CRM system, log in to a website or upload bulk lists via CSV – simply open an existing email client and send  SMS as one would do with a standard email.
Such simplicity in a service makes Email to SMS perfect for organisations simply looking to use SMS as an appointment reminders system or for occasional notifications such as parcel pick up or payment reminder.
More importantly, most Email to SMS providers can also handle user-replies with ease. Giving customers or staff the ability respond to your original SMS message opens up immediate two-way communication, invaluable when staff rostering or appointment reminders are being discussed.
Unlike a web-based solution, there is a need to have access to clients' email. However if one is after a simple, no-fuss solution that will deliver SMS as fast as your providers network allows then Email to SMS is the product.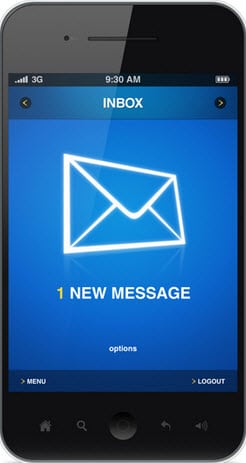 Features of WholesaleSMS as a Email to SMS provider
WholesaleSMS is a very good service that provides easy sending SMS from emails. Send SMS directly from an email, from free desktop SMS software or integrate SMS into office applications or programs using the Wholesale SMS API.
Send customer announcements, SMS appointment reminders and more using Email to SMS.  Fast, convenient and with the best value. Wholesale Email to SMS service allows one to conveniently and quickly communicate to your audience via mobile messaging.
With their Web to SMS service, Wholesale SMS allows to easily create web-based text messages, allowing you to segment your contacts into groups and thereby easily target a specific audience. It is easy to import pre-existing contact lists from Excel, Outlook and standard CSV files, and exporting contacts using email to SMS.

Another useful feature of WholesaleSMS is their template tool. With this feature, one can create a message template ahead of time and then access it is placed into message creation mode at a later date. This can really speed up the texting process. You can also personalise the signature you send with each SMS message. WholesaleSMS provides delivery reports, so that you can see which messages were sent successfully, and which messages failed to be sent, assisting you to get rid of unsuccessful messages. You can also download the delivery results as an Excel file.
WholesaleSMS offers toll-free numbers for American customers, and they have an email support found on their site. Their online help center is also quite helpful and covers a wide range of questions. The email sales for their SMS text messaging service can also be found at the bottom of the contact page.
Is Wholesale SMS Value for Money?
By comparing a number of reasonable and reputable SMS providers, it can be seen from the comparison table below, that WholesaleSMS charges for messages distributed each month, whether it be small number of emails to large volumes of 100,000+, to be the cheapest on all counts. Therefore this would mean less expenditure for an individual, company or organisation in distributing SMS text messages from email accounts. This is very beneficial when distribution occurs on an on-going basis over a length of time. Smaller number of messages distributed will also be cheaper.
Additionally, WholesaleSMS offers:
no setup fees
no monthly fees;
credit availability of 12 months; and
no contracts or ongoing fees which means that one is not bound by an agreement between WholesaleSMS and the individual or organisation. This provides with the flexibility of their maintaining the service provided or seeking an alternative, as there is no written or documentation containing an agreement.
What about Reliability of WholesaleSMS?
As indicated in the comparison table, WholesaleSMS provides with a quick and reliable SMS text delivery system in USA which means fast message delivery, a major requirement of clients, customers and employees. In fact, the average delivery time is 11.9 seconds!
WholesaleSMS provides around 99.5% network up-time guarantee. This will allow the individual or company to be provided with required solutions to meet their needs and wants with assurance as well save money. Ultimately, this cost efficient Email to SMS provider offers the right price and a reliable Melbourne based customer service.
WholesaleSMS includes a two-way SMS option at no additional cost as well as real time message status and personalising messages.
Reputation of Wholesale SMS
WholesaleSMS is a reputable American company providing full email client integration with no added software requirements. Purposed for smaller to larger sends, this provider allows you to simply drop the mobile number of your contact using a simple Email to SMS format. If you are interested in returns sent from your customers, clients or employees, then Wholesale SMS allows you to view both your 'sent' and 'received' messages via your email system.
With full reporting and the ability to send single and multiple SMS, WholesaleSMS has simplified sending SMS from your computer's email. A stable service and quick delivery complements its range of quality services.
As a Melbourne base support, Email to SMS services can handle user-replies with ease knowing if there is an issue, customer service is just 'around the corner'. This provides you with an ease of mind knowing that your customers or clients or staff have the ability to respond to your original SMS message thereby opening up immediate two-way communication ability via both 'sent' and 'received' messages. This is particularly invaluable for any events such as staff rosters or appointment reminders.
About Email to SMS Comparison Table
This Email to SMS Comparison Table was created to identify and compare the services and product range offered by different reputable SMS providers in USA. This information has been collected and collated fro reviewing the SMS providers' websites and producing in an easy to follow tabulated format.

The information provides a simplified, easily readable and schematic view of key selection criteria required in selecting a suitable Email to SMS provider, such as distribution costs, network availability, composing online to single and bulk recipients, charges,  credit availability, customer support service and so on. However, it should be stressed the information on the comparison table should only be used as a guide as prices and features may be updated at any time from the SMS providers' websites without prior notification.
The SMS Comparison table was developed by people who had worked within the SMS sector and understand the difficulties faced when comparing SMS providers and their plan offers. These people do not work with any SMS provider. If you have any information on the table or this website to be out-of-date or incorrect, please contact them and any changes will be made promptly.
The Comparison Table is provided for free and a commission may be given from the provider's site if you click through their website and engage their services. There are no other forms of advertising on this site and the authors have made price and features the elements that have led to the recommendations made on the site.
This site was updated on 6 September 2015