Comparing The Right Bulk SMS Company Checklist
In order to compare a bulk SMS company to another, a number of factors must be considered. This includes prices, SMS features, customer service support, reliability, the present clients, and promotional offers.
Factor 1 – SMS Price 
Price is an extremely important factor to consider when choosing an a bulk SMS company. Pricing will often depend on the level of service, as well as the the period of time (usually on a monthly basis), and the volume of text messages required. The number of SMS messages that a business can purchase can be anywhere between 1 and 1,000,000 text messages at any given time. When volume is low, charges can range anywhere between 7 cents and 9 cents per text message, which is around a 20% variance. For large volumes, it can vary anywhere from 1 cent to 8 cents be text message.
Shown below is a snippet taken from our mass text message comparison, showing the top range of SMS providers based on price.

The result of this comparison shows that WholesaleSMS has amongst the most cost effective with best value SMS solutions for businesses. More details on their text message prices are shown below. To learn more about the SMS provider, visit their website by clicking the link below.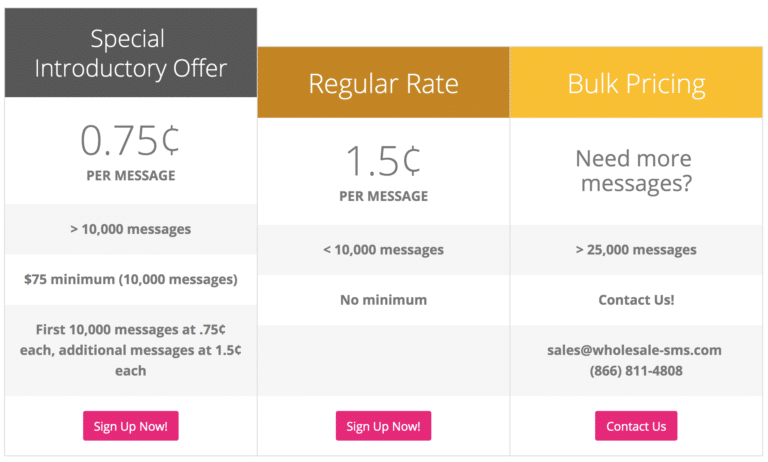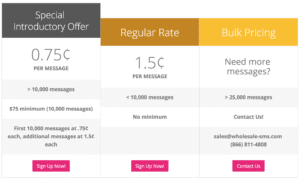 It should be emphasised that pricing is not the only factor is considering which provider offers the best overall value.
Factor 2 – SMS Features
Another important factor to consider is the range of SMS features that are offered by the SMS gateway provider.
An example of a feature to compare is the two-way process of the SMS distribution. Most SMS providers will enable businesses to not only send SMS messages to target audience's mobile phones, but also receive replies from those recipients. The level of ease to view, manage, and respond to these replies are critical. Inbound text messages can be viewed on the web, or straight to the business's mobile phone, with the capability to forward comments, inputs, contributions, or emails that can be converted back to SMS messages and sent back to the mobile phone.
Two-way communication provides an immediate form of communication between business and consumer, which can then be analysed through tracking reports. By recording and analysing incoming and outgoing SMS text messages, businesses are able to monitor and track the specific responses and outcomes from their marketing or communication campaign. These records can be sent to Excel with deliverability reports further sent through SMS gateway APIs.
Upon analysing the key SMS features of the best bulk SMS companies available to American businesses, Burst SMS presents the best range. Burst SMS is rated a 97 out of a 100, closely followed by bulk provider SMS Tech with an excellent range of features thereby ranking 89 out of 100. When considering all SMS providers, businesses should consider what would be most useful for them and their SMS marketing requirements.
Factor 3 – Reliability
The prices and features of a bulk SMS company is one thing, but whether these services are reliable and credible is another. Businesses must consider whether or not they are able to send text messages at any given time successfully, specifically for time-sensitive SMS messaging purposes. Most mass text message companies will enable businesses to schedule SMS message deliveries to ensure the message is sent at the appropriate time.
Reliability can be measured by the level of up-time guarantee that the provider states, along with the Service Level Agreement (SLA) that is proposed. an uptime guarantee should be around 99% to 100%, meaning that their SMS services, SMS software, and mobile networks are available 99% of the time.
As shown below, all 5 USA bulk SMS companies show a great level of reliability in their customer service and their systems. SMS Broadcast, DirectSMS, and ClickSend and DirectSMS are rated a top of 100, closely followed by SMS Tech and Burst SMS.
Factor 4 – Customer Support Services & Reputation
This bulk SMS company comparison found that most mass text message providers offered a free trial, which enables businesses to review the range of SMS services provided. These trials vary from around 5 free SMS to 60 free SMS messages. This is just one aspect that must be considered when acknowledging the level of customer service from a bulk SMS company. Upon further analysis, it was found that these SMS providers offered a great range of customer support services including an American phone number, online contact forms, online tutorial videos, community support forums, and online chat systems. Being global providers, it is important that the company has offices based in America to ensure that they are available during USA time zones.
From a reputation perspective, each company has a range of case studies and reviews which showed a high level of reputation. SMS Tech was regarded as the most reputable organisation, with a 100 out of a 100 rating. This was closely followed by Burst SMS with another high ranking of 97 out of a 100. SMS Broadcast was also well placed with a reputation score card of 86. The two bulk sms providers were rated and ranked much lower with Direct SMS rating a mere 59 out of a total of 100.
Finding The Right USA Bulk SMS Company
Finding the right bulk SMS company is pivotal for American businesses to send and receive large volumes of text messages to their target audiences. With the vast range of SMS services available and at different prices, it is important to find the right SMS gateway provider which will be useful for one's unique business SMS marketing needs.
Discover the best bulk SMS company requires lots of research and analysis, hence this Mass Text Message Comparison Table was developed for American businesses freely use in order to find the perfect mass text messaging service. If any of the information found on this website is out of date, please contact the authors and changes will be updated immediately.
Number of Top Bulk SMS American Companies
There are a number of bulk SMS companies in USA that will be able to provide a Short Message Service (SMS) to you for ease of distribution, whether it be via mobile phone, Web or any other communication devices. By notifying the providers as what device or devises you wish to use and supplying the database of customers or consumers or any other groups, everything else is done by the SMS company. It really only takes a few seconds or minutes from when you give the instruction to send until the SMS is received at the other end.  It really does not matter if the database sends out hundreds or thousands of contacts, it is an efficient way of communicating.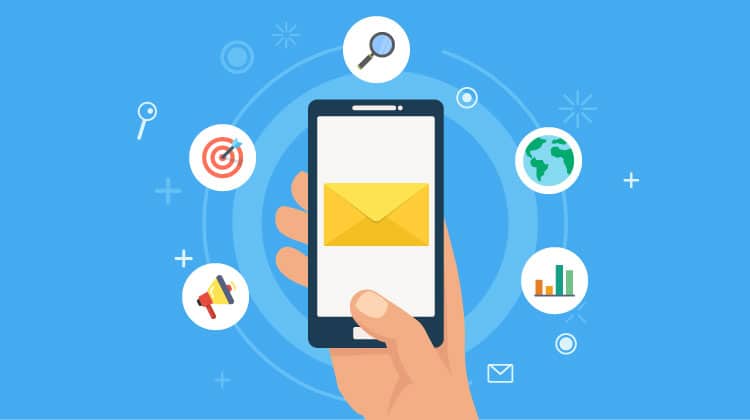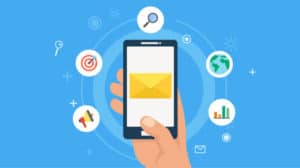 Advantages of SMS bulk distribution
The major advantage of bulk SMS distribution is that there is no requirement for any software to be installed into your system. Why, you may ask? The simple answer is that the bulk SMS companies are totally web based and so the only need from your side is to have a web browser and internet access. What is only needed is to provide the provider with your names and contact details for distribution purposes. Then when you are ready to send a message out, it just a matter of notifying the provider which group or groups of people need to receive the SMS and it will be sent in a matter of minutes or seconds.