Bulk SMS Service Provider Comparison In USA
Bulk SMS service providers offer American businesses the opportunity to send large volumes of text messages to their target audience for their SMS marketing and SMS campaigns such as alerts, reminders, special offers, and much more. Discovering the right bulk SMS service that will suit your business's needs is essential to ensuring that marketing messages are delivered successfully and promptly.
Ensuring American businesses choose the right services of their needs requires a high level of research and an understanding of core SMS factors including cost, reliability, customer service, and certification such as ISO9001 and ISO 27001 to ensure security and quality.
Thus, SMS Comparison offers a range of SMS comparison tables and articles that will provide American businesses the ability to learn, compare, and analyse the various services offered by these mass text messaging providers.
Range Of Bulk SMS Services
In USA, there are a variety of reputable bulk SMS service providers that offer mass text messaging services. This enables American businesses to send small to large volumes of text messages through a mobile communication system, mobile phone, or web-enabled computer. There is a monthly charge associated with the distribution of text messages and each message is limited to 160 characters.
Our bulk SMS review found that the best mass text message providers in USA are WholesaleSMS, DirectSMS, SMS Tech, SMS Central, and TextIt. These providers utilise an SMS gateway to enable businesses to utilise their range of features and services and send bulk sms messages to employees, customers, or the general public.
The core components to understand when choosing a bulk SMS service provider is discussed below.


1. Bulk SMS Provider Advantages
There are many advantages when it comes to using bulk SMS providers for a business's text messaging solutions. Firstly, it enables two-way communication between business and customer without the need to download an additional software. A business just needs access to the internet and the SMS gateway can be integrated within an existing system.
The bulk SMS provider will save the organisation's contact list and group them to enable easy management of contacts. The business simply needs to notify the provider which groups they wish to contact and text messages will be sent within seconds.
2. Price
Price is a huge consideration when delivering large amounts of SMS messages. Prices will vary depending on the provider and the amount of text messages distributed each month. This distribution volume can range anywhere between 500 to 1,000,000 text message per month. Overall, the higher the volume, the lower the cost per text message.
Our comparison table highlights the bulk SMS service providers in USA from the cheapest to most expensive.
The price variances demonstrate that some leading mass text message providers offer more appropriate messaging solutions for lower volumes, whilst others are more effective for large volumes of distribution. Therefore, a business must understand these differences and choose based on their text message requirements.
Our SMS graph below enables business's to visualize the prices by each SMS provider based on a rating out of 100. WholesaleSMS offer the best pricing range, followed by ClickSend and SMS Tech. The most expensive provider is TextIt, whilst SMSCentral does not provide its prices. To view the exact pricing of WholesaleSMS, please visit their website below or explore our extensive Wholesale SMS reviews.
Wholesale SMS Review >>Visit Website >>
Please note that the providers can change these costs at any given time without prior notification. Therefore, a business should contact the bulk SMS service provider before engaging with their services.
3. Features
American businesses must be aware of the various features provided by bulk SMS service providers.
Firstly, the two-way processes provided must be understood. Mass text messages can be sent within specific time frames to audience's mobile phones. The effectiveness of these delivery times can be analysed by an tracking analysis report provided by the SMS provider. This report can be exported into a spreadsheet or viewed on the web. This enables businesses to review how SMS messages are being delivered and whether they are being responded to.
Additionally, there are multiple ways bulk SMS service providers can service a businesses needs. These services are routed through high speed gateway connections, offering the ability to distribute large volumes of bulk SMS messages at any given time. These SMS providers will provide the delivery reports through the  online platform or API.
As shown in the graph below, Text It and SMSTech have a high rating based on features, followed by SMS Central, SMS Global, and Direct SMS.
4. Reliability + Latency
When engaging with a bulk SMS service provider, reliability and latency are highly important factors which should be considered by American businesses. A business must have the reassurance that the bulk SMS messages they schedule will send to the correct mobile phones at the specified time. This is crucial, particularly for businesses who wish to send reminders, critical alerts, or promote time sensitive marketing campaigns.
In USA, there are two ways a text messaging services:
Premium bulk text message service: High level of reliability and latency for a higher cost
Cheap bulk text message service: Low level of reliability and a longer time period for a lower cost
Many bulk SMS service providers offer a 99.9%-100% service level agreement and uptime guarantee, which is a key indicator that mass text messages will be successfully delivered. When reviewing the leading SMS providers, it is important that a business chooses a provider that provides at least a 90% uptime guarantee for all of the associated SMS features.
Our mass text message review has found that ClickSend, WholesaleSMS, SMS Global, and SMS Central all have an excellent reliability and latency guarantee, and a high reputation in USA.
5. Customer Support Services
The final aspect under analysis is the customer support services, including the call centre support, spam compliance, delivery reporting, and free trial availability.
It is important that bulk SMS service providers offer a high level of customer support when businesses require it. Most mass text message providers present a phone number during business hours (as well as International phone numbers for overseas businesses), as well as an email address to contact or online messaging platform for 24/7 support.
Free trials are also offered by a majority of bulk SMS providers to enable American businesses to test and try the services. This free trial can range from 5 free SMS messages to 60.
A part of Text It, all SMS service providers provide an anti-spam policy, privacy policy, and a data cleaning option to detect any unauthorised mobile phone numbers in a business's contact list.
Overall, as shown below, ClickSend, SMS Text, Direct SMS, and SMS Central are the most successful based on customer service and support features.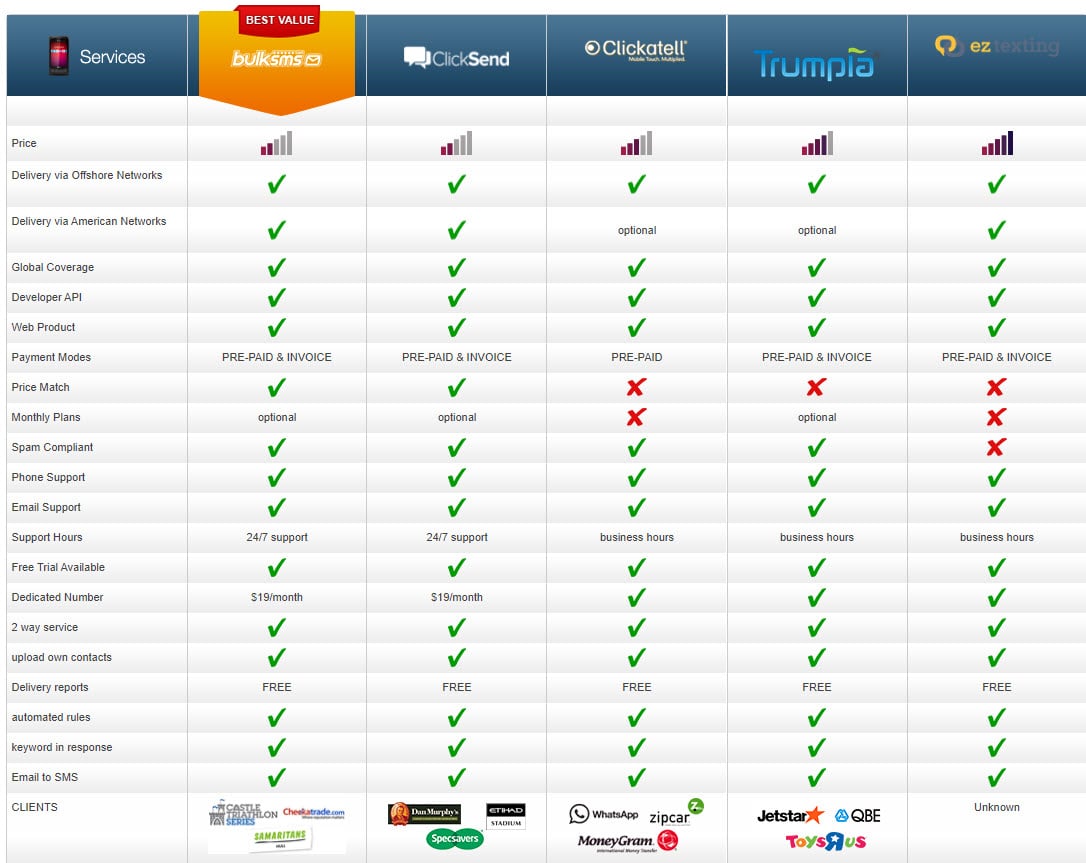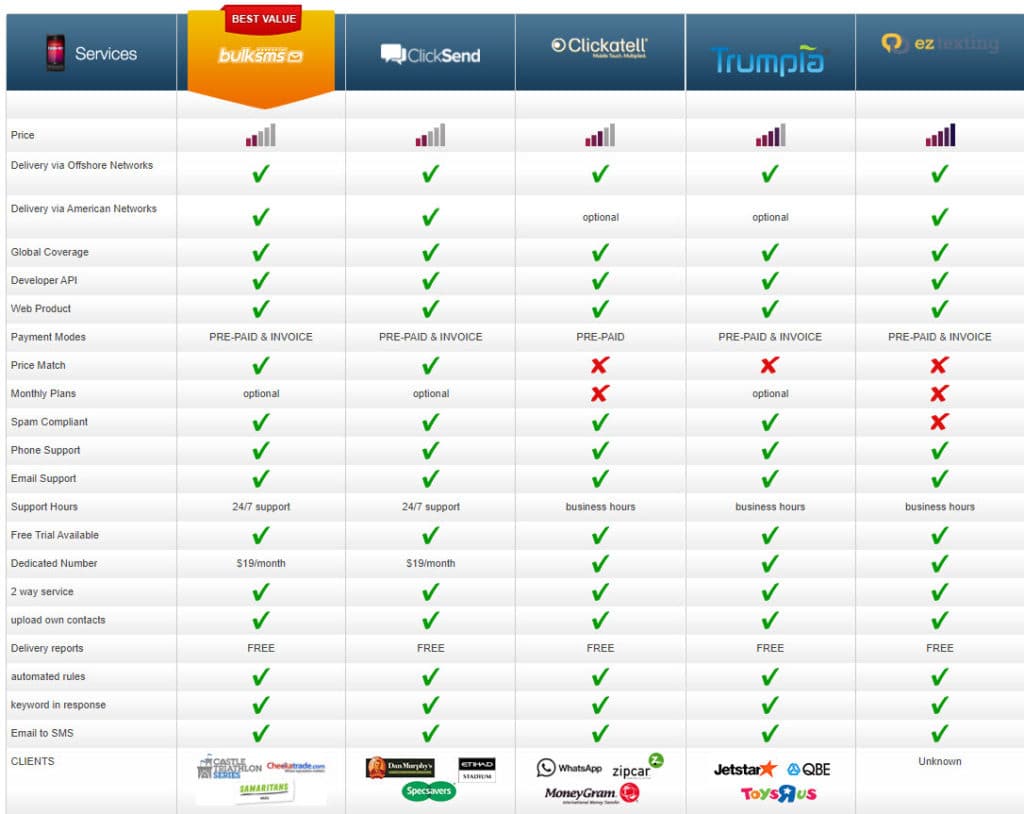 About Bulk SMS USA Comparison Table
On SMS Comparison, our mass text message comparison table works to provide business in USA with the knowledge and capabilities to compare and analyse the leading SMS providers simply with no extra charge. The authors have had previous experience in the SMS industry, and wish that the core information, based on features, price, reliability, and customer service provide the knowledge necessary to engage with a provider for effective SMS marketing activities.
Please be aware that the providers are subject to change their information, therefore the data on this site may be out of date. If any of the information appears to be incorrect, please contact the authors here, and we will make amendments immediately. Additionally, no form of advertising or bias is found on this site. However, if you engage with any of the providers, a commission may be asked from the provider, at no extra charge to you.