Comparing MessageBird vs Twilio
Messagebird and Twilio are highly reputable SMS gateway providers within the USA, catering to small, medium, and large sized businesses. Utilising SMS marketing techniques is crucial for businesses to connect and form relationships with their customers through effective, convenient two-way communication.
The mass text message providers utilise their SMS gateway API (Application Programming Interface) software that can integrate with a business's existing applications to send and receive SMS messages. These messages can be sent in the form of reminders, short codes, alerts, and can be time-schedules to work with upcoming promotional campaigns.
In 2021, more businesses to turning to world class text message providers like MessageBird and Twilio to conduct two-way communication with their customers, employees, and stakeholders.
MessageBird vs Twilio SMS Features
Based on our MessageBird review and Twilio review, we found that these leading SMS gateway providers offer top of the line mass text messaging features. These include:
Send and receive SMS messages globally, on a large scale
Automate reminders and notifications
Sophisticated API softwares integrating with existing systems
Multi-channel messaging
Dedicated phone numbers
Short code phone numbers
Delivery reports
Text to speech
Email to SMS
MMS
Both MessageBird and Twilio provide services which enable businesses in American to send and receive mass text messages at any given time, around the world. Businesses can use the mass text message provider's API softwares to seamlessly integrate with their existing systems (including emails) to communicate with stakeholders, customers, or employees.


Pricing Plans Of MessageBird vs Twilio
When it comes to pricing, MessageBird and Twilio both have a pay-as-you-go pricing option which is suitable for small US businesses to wish to only pay for the amount of text messages they use. Additionally, both mass text message providers offer volume discounts for larger corporations who wish to send large volumes of SMS messages per month, around the globe.
The most affordable option of the two SMS gateway providers is MessageBird. The provider offers local SMS messages starting at $0.005 per text message which is amongst the cheapest of the SMS providers we have reviewed. What is also great about this provider, is, much like ClickSend, the inbound text message are always free, therefore making two-way communication easy and affordable.


To learn more about MessageBird's pricing plans, please visit their website.
On the other hand, Twilio has charges starting from $0.0075 per SMS message (which is still affordable amongst all text message providers). However, Twilio charges for incoming SMS ($0.0075) and MMS messages ($0.0100).
When reviewing both MessageBird vs Twilio, the providers both offer custom packages for businesses who wish to send high volumes of text messages through their global SMS infrastructures.
MessageBird vs Twilio Reliability & Customer Reviews
Message Bird and Twilio both have a high reputation amongst businesses world wide, however the real measure of reliability is by the level of up-time SLA guarantee the mass text message provider promises.
Both text message providers state on their website's that they have a 99.95% SLA guarantee, meaning that almost 100% of SMS messages will be delivered the correct mobile phone successfully. On the rare occasion that a server goes down, the SMS provider's teams will be available 24/7 to ensure that the problem is fixed promptly.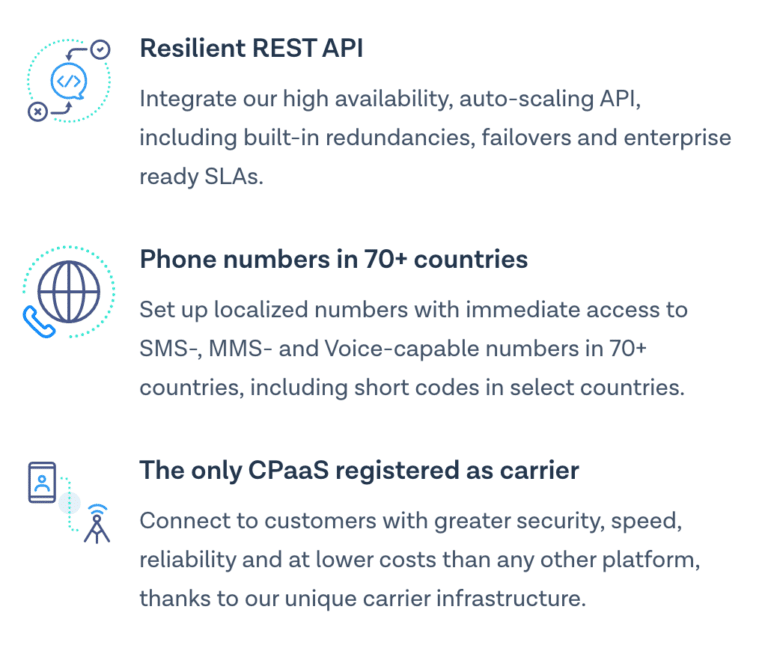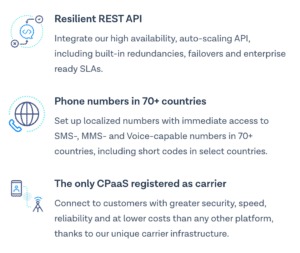 Both SMS gateway providers use the best possible route to deliver mass text messages to the end user. This means that the provider will either use American based telecommunication providers (e.g. Verizon), or overseas carriers, or a hybrid of the two, to ensure that SMS messages are delivered.
MessageBird has an anti-spam policy and is compliant with the laws and regulation associated with the business's specific country. Twilio does not suggest any security policies on their website.
These leading mass text message providers have a high reputation amongst businesses internationally.  MessageBird has clients such as Uber, and Heineken. Twilio has a customer list including AirBnB, American Red Cross, and more as shown below.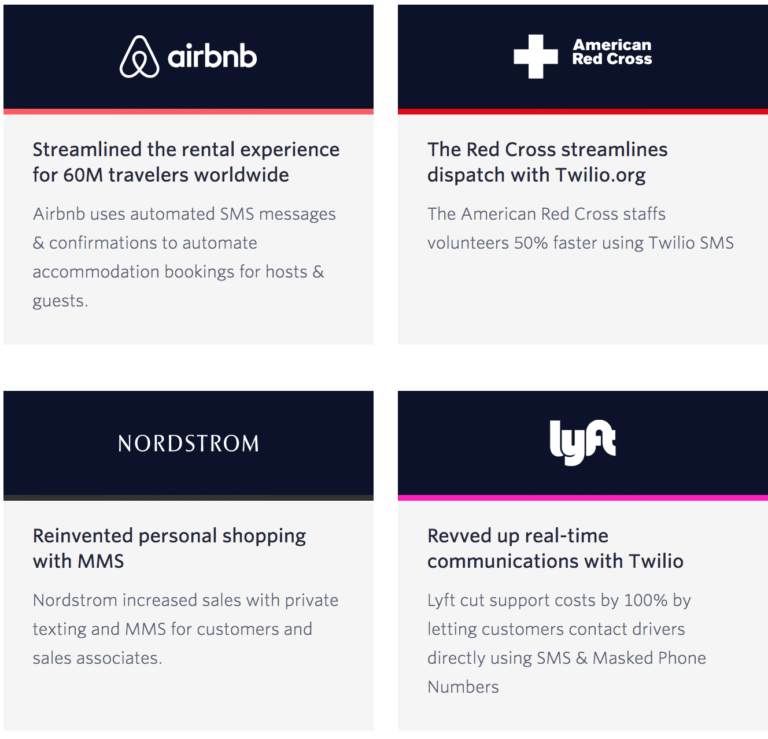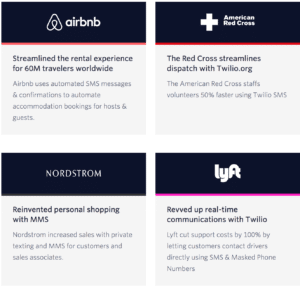 MessageBird vs Twilio Customer Support
MessageBird and Twilio offer round the clock customer support for their clients. What is fantastic about these SMS providers is that they both provide help centres on their websites. These help centres are a place where customers can get all their questions answered from their FAQ's case studies, blogs, and more. If their questions are unable to be answered, both SMS gateway providers offer an email address and phone number for additional customer support.
A key advantage of MessageBird is that they have offices (they call birds nests) around the world, which provides customers in every time zone with support 24/7. Their USA office is based in San Fransisco.
When it comes to customer ratings on Trustpilot, MessageBird is rating a 3 out of 5, whereas Twilio is rating slightly higher with a 4 out of 5.
About SMSComparison.com
SMS Comparison USA was created by a team of experts in the SMS field, who no longer work in the industry. This team felt as if there was confusion for American businesses in choosing the right SMS provider that suited their SMS marketing needs. Therefore, the SMS Comparison team created the comparison tables and associated sites free of charge to help businesses compare the features, prices and services of the world's leading mass text message providers.
The MessageBird review and Twilio review, along with the other SMS gateway provider reviews, were created independently, therefore if you find any of the information to be outdated, it is recommended that you contact the authors here so corrective actions can be undertaken.
To learn more, read our SMS gateway and mass text message reviews and explore our comparison tables.