Email To SMS Gateway USA
Email to SMS is a service which enables emails to be translated into text messages easily and efficiently through the business' current email address. Research has shown that consumers are much more likely to open, read, and respond to text messages compared to emails, which only have a 20% open rate. Thus, it is important for US businesses to utilise email to SMS gateway systems as an effective marketing communication tool to send reminders, campaign notices, alerts, and notifications to their target audiences' phone numbers.

Various American SMS gateway providers facilitates the ability for mass SMS messages to be sent from a business' personal computer without changes or additions to existing CRM systems. Therefore, one can send SMS communications anywhere and at anytime there is access to a computer network.
There are a variety of different email to SMS gateway services available. Reliability, security, and promptness are better provided using a premium direct gateway provider who use secure telecommunication carriers in the USA, such as AT&T and Verizon. These mobile phone network systems will ensure that when businesses send text messages, the SMS is delivered. These premium SMS gateway systems come at a higher cost than hybrid services, as they use less reliable oversees telecommunication carriers.
A number of SMS providers enable business's to receive reply text messages from audiences. This two-way communication is immediate and responsive, thus very useful for American businesses who want to create a customer relationship or send and receive SMS messages for appointment reminders.
List Of USA Email To SMS Gateway Providers
Upon reviewing a range of email to SMS gateway providers (as shown in our SMS comparison table), there are a number of core competitors which provide a range of mass text message features at a reasonable cost.
The list provided mainly highlights providers which offer premium gateway services, however have the ability to utilise hybrid overseas carriers if cost is a concern. The companies include ClickSend, SMS Broadcast, WholesaleSMS, Clickatell and SMS Tech.
The two leading providers are ClickSend and SMSTech. Both of these companies ensure that the gateway services are used to support email to SMS solutions and have a browser based message platform – including; Outlook Mobile Service, Online SMS and SMS Gateway. Utilising these providers will enable businesses to send text messages in mass volumes simultaneously.
As shown in the graph, the key competitors in the email to SMS gateway field are ClickSend and SMS Broadcast. Based on their features, reliability, cost, customer service, and overall reputation, the graph is a visual way to display the quality provisions that these email to SMS providers offer.
Best Email To SMS Provider Based On Price
After reviewing the distribution prices of mass SMS text messages, it is found that there are a range of fees on a monthly basis which is dependent on the quantity of text messages sent. The larger the volume of SMS messages sent per month, the cheaper the price per text message.
ClickSend and SMSBroadcast offer the cheapest charge for sending text messages in mass volumes (small and large). Followed by DirectSMS, SMSTech, and TextIt which were a have slightly higher costs.
However, businesses must consider other additional factors. For example, ClickSend and SMSBroadcast offer unlimited credit validity. Additionally, these email to SMS providers do not charge a monthly fee and a much lower cost for the purchasing of a virtual number (e.g. short code).
Email To SMS Gateway Reliability
Whilst cost is a primary concern, businesses should also consider how reliable the email to SMS gateway is in delivering text messages successfully. In our email to SMS review, we found that ClickSend and DirectSMS provides the most efficient and reliable email to SMS gateway solution. For many American businesses, reassurance that an SMS message will be sent and delivered when required is highly important, especially if it is regarding an appointment reminder or critical alert. Both providers obtain highly sophisticated gateway technologies which are supported by technical skills. ClickSend and DirectSMS also provide customer care services on a 24/7 basis or during business hours, therefore providing round the clock support when required.
This high level of reliability is supported by a 99% or higher uptime guarantee with either a Service Level Agreement (SLA) or a money back guarantee through a contractual agreement.
Email To SMS Gateway Software
Email to SMS gateway uses a Application Programming Interface (API) system which converts your emails into text messages. This enables customised communicative messages to be distributed to mobile phones.
This system enables businesses to write personalised messages via an email platform including AOL, Outlook, and Gmail. The text message is able to be sent from a third party software system or an external CRM and will use a premium or hybrid carrier. Premium carriers are more secure, however come at a higher cost than hybrid carriers which use overseas telecommunication networks. Therefore, an email to SMS gateway software enables a seamless connection of the provider's SMS platform to an existing email system.
About This SMS Comparison Table And Website
This SMS comparison table was created to assist American businesses in comparing the features, prices, reliability, and customer services of SMS gateway providers, and specifically, email to SMS services.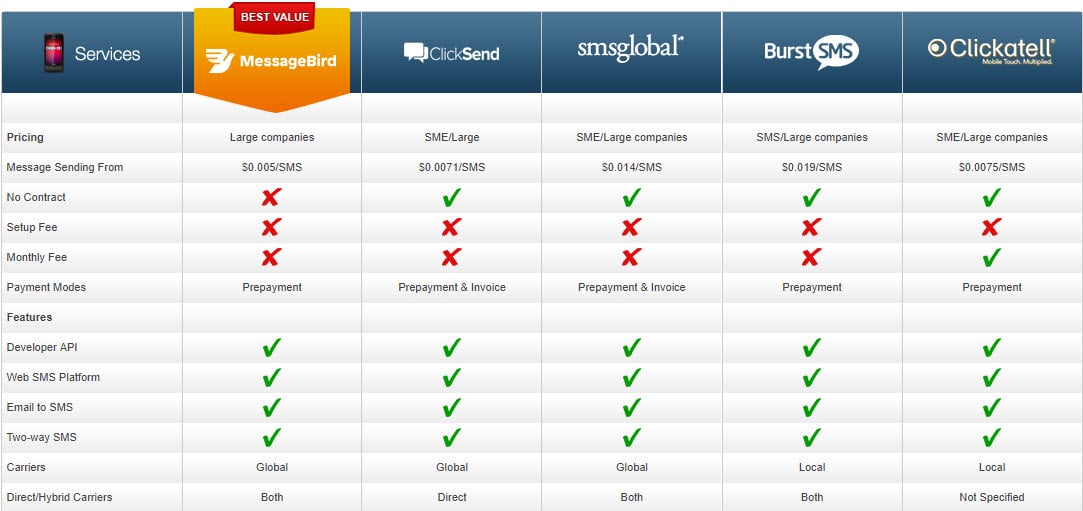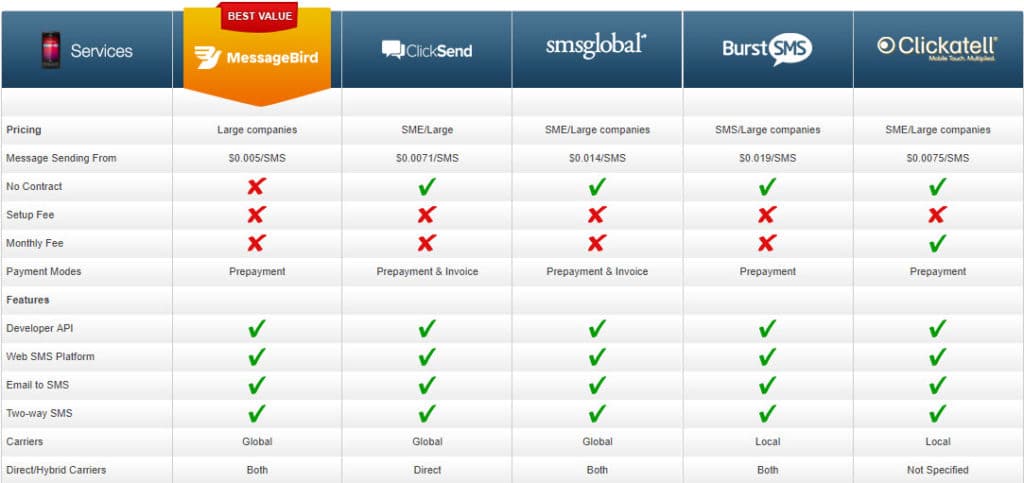 The SMS comparison table was created by a group of marketing experts who felt that it was difficult for businesses to assess the value of different SMS providers available in USA. Therefore, created this website for American businesses to use, free of charge.
The information found on this site is provided by the SMS providers' websites. These providers can change this information without notice, therefore, if the data shown on this site differs from the providers' sites, please contact us and we will make amendments.