Who Is Twilio?
Twilio is a global cloud communication messaging platform that enables US businesses to multiple communication means (including SMS, and voice chat) to their web and mobile devices.
Twilio's mass text message gateway offers SMS text messaging by enabling businesses to seamlessly integrate with any web enabled computer – no additional set up is required. Overall, Twilio has the SMS solutions and sophisticated API network that enables businesses to send and receive mass text messages to customers, staff members, and organisations. The company also provides the ability to monitor voice calls, engage with email to SMS, and receive SMS notifications to ensure successful message delivery.

On SMS Comparison you have the ability to directly compare Twilio with America's other leading SMS gateway providers including ClickSend, BulkSMS, MessageBird, SMSGlobal, and Clickatell.
Skip ahead
Twilio Offer Competitive Mass Text Message Pricing
Our Twilio review highlights the SMS gateway provider as having simple, flexible pricing solutions, including:
The provider has programmable SMS services which enables businesses to send text messages with pictures from $0.0075.
The simple SMS comparison graph below highlights how Twilio's prices are extremely competitive in the USA. Twilio has a free trial credit with full API access to any business who wants to get started with their range of services. Twilio offers a range of phone numbers for different prices, including short code. Another positive feature is that no SMS credit expire. This is unlike many other SMS gateway competitors.
Twilio Offers Strong SMS Gateway Features 
Twilio has a diverse range of features that extend beyond basic SMS services. The mass text message provider enables multi-channel messaging with the ability to use the same API platform across services such as WhatsApp and Facebook Messenger.
Moreover, Twilio has phone numbers in over 30 countries world wide, including MMS-enabled numbers in US and Canada, and short codes in US, Canada and UK.
Additionally, Twilio provides MMS capabilities, which means that businesses can send photos and videos as well as worded text messages. With Twilio's fast and efficient SMS gateway API, these MMS messages can be delivered fast and successfully to a large volume of smartphones.
Twilio also provides text message reply options, which enables two-way communication between business and mobile phone user. This creates long term customer relationships.
Overall, based on our Twilio review, it is found that they encompass successful smart content handling and text message delivery intelligence to ensure that large volumes of text messages are sent as they are prescribed, and within a given time frame.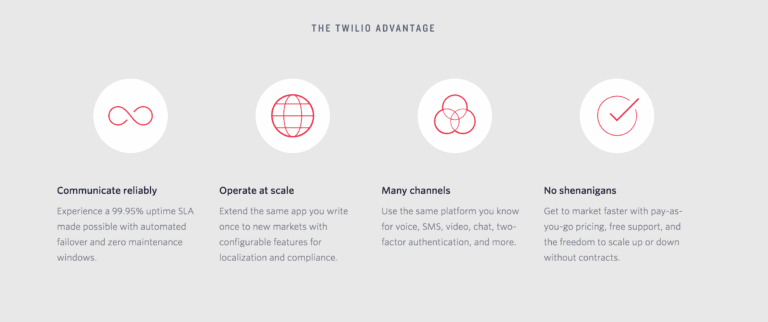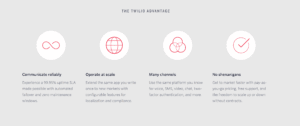 Twilio offers a powerful API platform that enables businesses to send mass text messages to target audiences. The key features of this SMS gateway provider was compared with the other leading USA companies and reviewed in the graph below.
Reliability Of Twilio As A Gateway Provider
Twilio is an world renown SMS gateway provider with their head office in based in San Fransisco. They have a strong global presence, particularly within the US. Twilio offers a call centre number, live chat option, and contact form.
A big advantage of Twilio is their measure of reliability. The SMS gateway provider's reliability is highlighted through their 99.99%+ uptime SLA guarantee. Thus, American business are able to put their trust in Twilio in order to utilise their services to send secure, time-sensitive text messages through their API platform.
Reputation Of Twilio As An SMS Gateway Provider
Twilio is a highly transparent SMS gateway provider, with reviews from a number of large corporations displayed throughout their site. The provider has a "Customer Stories" section which highlights key case studies and reviews from businesses like Coca-Cola, AirBnB, Twitter, Dell, and Uber. These Twilio reviews highlight what other global enterprises were able to achieve with the provider's services.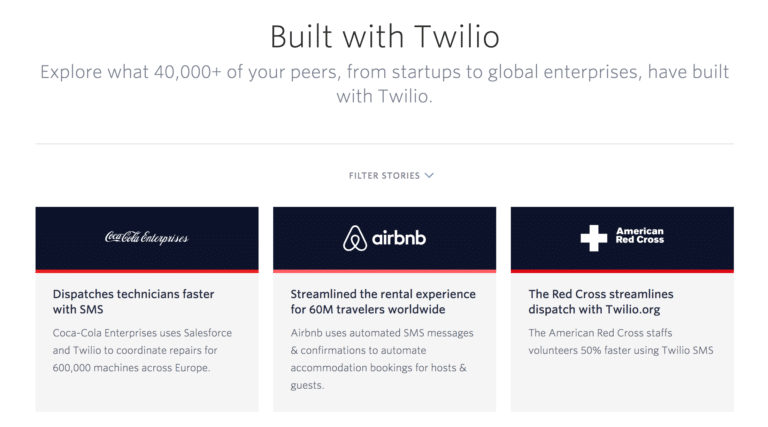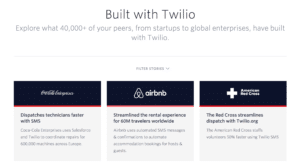 Additionally, as discussed previously, Twilio is a highly supportive text message provider, offering assistance through the website, phone number, and live chat options.
With their amazing range of features, our Twilio review found that compared to other leading SMS gateway providers available to USA businesses, Twilio is highlighly reputable and rated well amongst its peers.
Overall Twilio Review
SMS marketing with Twilio is made simple, easy, and efficient with the SMS gateway provider's intelligent API platform. Overall, mass text messaging providers around the globe can be used for a mass text message communication activities including:
Staff rostering
Appointment reminders
Booking confirmations
Alert systems
CRM or sales follow ups
Delivery notifications
At SMS Comparison, our Twilio reviews found this provider offers a range of amazing features including MMS capabilities, SMS notifications, a range of phone numbers in over 30 countries, and intelligent content applications. Ultimately, Twilio services enables USA businesses to send mass text messages to a large number of contact lists, whether this be within America or overseas.
About SMS Gateway Solutions
An SMS gateway is a website system that allows American businesses to easily distribute mass SMS text messages from a web-enabled device (such as a computer, smartphone, or tablet) directly to target audiences' mobile phones.
A mass text message gateway enables an electronic device to send and receive mass SMS messages through leading mobile network providers. Such network providers in USA includes T-Mobile, Verizon, and Sprint. An SMS gateway provides SMS marketing solutions for those who require:
Time-sensitive text messages
Send alerts and reminders
Private text messaging
2-way communication
SMS marketing (for example, upcoming promotional services and products)
About This SMS Gateway Comparison Table And Site
The SMS gateway USA comparison table by SMS Comparison was formulated independently to compare the various SMS features, reliability, prices, and customer reviews provided by the leading SMS gateway providers around the globe. This website was independently created by a group of mass text message specialists who have worked in the SMS marketing field in the past, and therefore have a range of expert knowledge in SMS messaging for businesses. The information is presented in a simply table, outlining the key criteria that is important for businesses to know.
The providers found on the site have the ability to change their information at any given time. Therefore, should be information on this site be out dated or incorrect, it is advised the authors are contacted here, and corrective changes will be made immediately. It is highly recommended that a business checks the provider's website before engaging in their services.
This SMS gateway USA comparison table and web site is free for the public to use. However, the authors must disclose that affiliate relationships may exist, but this does not impact the SMS rates and fees billed to the business when engaging with the chosen SMS provider.