ClickSend As An SMS Provider for Marketers
ClickSend is one of America's best mass text message provider due to its range of SMS marketing tools that enable clients to meet the requirements of their marketing campaigns, as shown on the SMS Marketing USA Comparison table.
SMS marketing communication is advantageous for any marketing business wanting to promote their products and services, spread the awareness of their business, or simply communicate with their target audiences easily and effectively.
Like many other SMS gateway providers, ClickSend offers an SMS marketing software which enables businesses to send and receive SMS messages from a device which is connected to the internet. There is no set up or additional software required – ClickSend can simply communicate with any selected phone number with any given message, within a matter of moments. Thus, SMS marketing communication is a highly effective tool that every American business should use.
Some of the key benefits of ClickSend are highlighted below. At SMS Comparison, businesses are able to compare the benefits of ClickSend to a number of mass text message providers, including SMSGlobal, MessageBird, Clickatell, Twilio, and BulkSMS.

Compare SMS Providers >>Visit Website >>
Skip ahead
SMS Marketing Features Offered By ClickSend
This American SMS provider is able to integrate mass text messaging into any web enabled device for a business's SMS marketing requirements. For example, ClickSend's Email to SMS service is ideal for those who use email as their main form of marketing software. Thus, enabling businesses to send reminders, alerts, and any form of communication from any email software via reliable American networks.
A great feature of ClickSend is that there is no software to download or install. This SMS Marketer provider is totally web based, which means there is no software to crash a computer or other device. All a business requires is a web browser and access to the internet. Additionally, ClickSend is able to save a business's contacts and set up groups to manage contact lists easily.
The core SMS marketing features offered by ClickSend are shown below.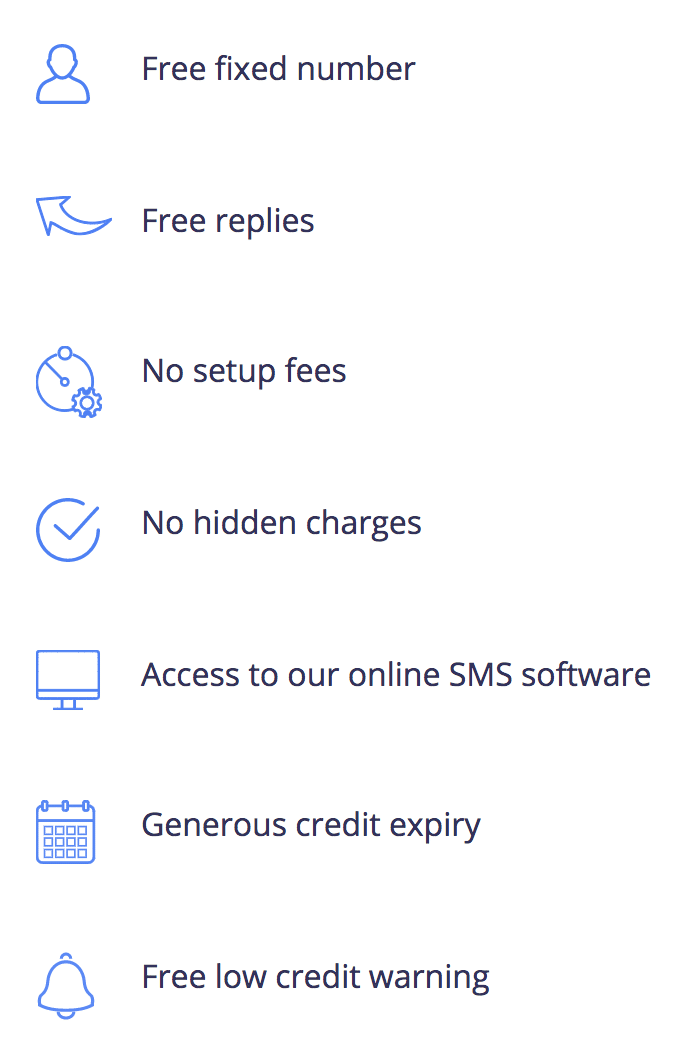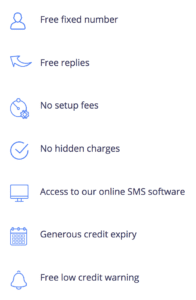 Businesses are able to schedule their SMS marketing campaigns so that text messages are sent at pre-determined times and days, without the need for the businesses to log in to the SMS software.  In addition, businesses are able to track the text messages sent and analyse whether they have been successfully delivered to the recipient's mobile phone. This provides a complete SMS history and enables businesses to track their SMS marketing campaigns, which can then be exported to programs such as Microsoft Excel for further investigation.
Additionally, ClickSend is packed with SMS features that go beyond the basic email to SMS services. ClickSend enables businesses to integrate their marketing communication messages with social media platforms such as Facebook and Twitter, thus reminding their audiences through multiple media platforms.
Another optimal SMS marketing feature is their MMS capability. This allows US businesses to send photos and videos to contact lists with smartphones, whether this be a single contact, or multiple at a time.
ClickSend also offers SMS reply options, such as sending replies as an email, or specifying a different return email address, sending replies to a mobile, sending replies to your website/custom application, or block replies.
Finally, another feature to highlight is the text to speech service which converts text messages to voice calls in various languages and voices and adapting to local markets.
How Much Does Mass Text Messaging Cost?
Upon our SMS marketing USA comparison, ClickSend offered amongst the best valued prices of all the mass text message providers – particularly for larger distributions of SMS messages on a monthly basis.

ClickSend as no monthly fees, hidden fees, or recurring fees for dedicated number and incoming text message are free of charge. The provider also has a price match guarantee, stating that they will beat any cheaper quotes. The SMS credits purchased by American businesses also do not have an expiry date, meaning they are able to use the credits whenever they wish. This differs from some SMS marketing providers who state a use by date for their SMS credits.
Visit ClickSend's website below to learn more about their SMS prices, or to get a customised quote today.
ClickSend Reliability & Customer Service
Text message reliability is measured by a the uptime guarantee stated by the SMS marketing provider. ClickSend offers a 100% Uptime Service Level Agreement (SLA) Guarantee, which is the highest amongst all the providers analysed.
Our ClickSend review found that the SMS marketing provider offers a range of points of contact to their customer service team. On the ClickSend website, they SMS provider offers a contact phone number, Skype, email support, online chat box, and a FAQ section. Therefore, businesses are able to get all their questions or concerns answered, and the customer support team is available whenever help is required.
A great service offered by ClickSend is their provision of a free trial period, which enables businesses to try out their SMS services while gaining the support they need.
ClickSend's Client-Base & Reputation
Overall, ClickSend is an American-based SMS marketing provider which offers a plethora of successful SMS features, backed up by a team of specialised SMS marketing support which is available round the clock.
Thus, the global SMS provider has a high reputation world wide, with an average rating of 8.1/10 from thousands of reviews.
ClickSend has an impressive list of clients around the world, with American clientele such as HP, Intel, McDonalds, and much more.
About This SMS Marketing Comparison Table 
Our SMS Marketing USA Comparison Table was developed to compare the SMS services and various features offered by the leading SMS service providers available to USA businesses, whether this be large corporations, to small businesses.
The information has been analysed independently, thus being free of charge for any business to view. The simplified, easy to follow comparison tables seek to provide the key information required such as costs, customer support, level of reliability, and more.
However, this information should also be used a a guide, as the prices and features may be updated at any time on the provider's websites. Thus, if the data found on the comparison tables are no longer application, contact the authors and changes will be made.
No form of advertising is shown on this site, however a commission may be asked from the SMS providers should a business click through to their website and engage with their services (at no extra cost).