What Is Email To SMS Gateway And Why Use It?
A reliable email to SMS service will enable any business to send text messages from their computer's existing email account. This provides a timely and cost effective means to send bulk sms messages directly to audience's mobile devices without the need for additional softwares. Text messages a simply sent to a mass number of email clients just like it would be to send an email.
Therefore, email to SMS gateway services is perfect for American organisations who wish to distribute mass text messages on a regular basis, for uses such as appointment reminders, notifications, alerts, or marketing communication campaigns.
Many email to SMS gateway providers offer two-way communication services through the ability for the recipient to reply. This is highly effective to promote a customer relationship or assist in instances such as appointments.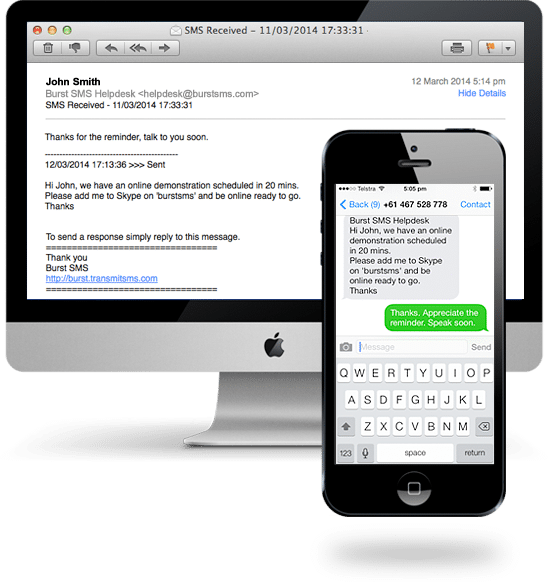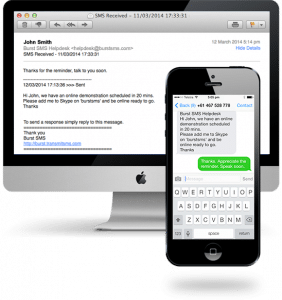 For businesses wishing to use an email to SMS service as a means to simply and efficiently communicate to customers, employees, or stakeholders, a premium direct gateway carrier should be obtained. These premium gateways are more costly compared to hybrid gateways which use overseas gateway providers, however are much more reliable. This is due to the fact that they transmit messages via leading American telecommunications networks such as AT&T and Verizon.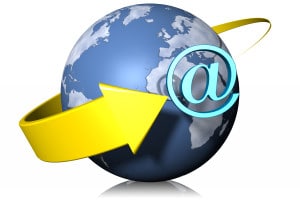 Email To SMS Gateway Features Comparison
Based on our analysis on the features offered by America's leading SMS providers, (as shown on our SMS Comparison Table ), ClickSend and SMS Broadcast stand out to have the best range of features. Both of these providers have gateway networks which supports email to SMS solutions including message platforms such as Online SMS, Outlook Mobile Service, and SMS Gateway USA. ClickSend and SMS Broadcast have the ability to distribute mass volumes of SMS messages in a specified amount of time to a target audience's mobile phone. Clients are also given the option to have replies managed by an inbound system, or be directed to an email address or mobile phone.
In terms of recommendation ratings out of 100 for email to SMS gateway services, both ClickSend and SMS Broadcast have been rated 97. This is followed by Clickatell with 89, and SMS Tech with 86. This information can be found below and shows how sufficient the features are of these top 2 email to SMS gateway providers.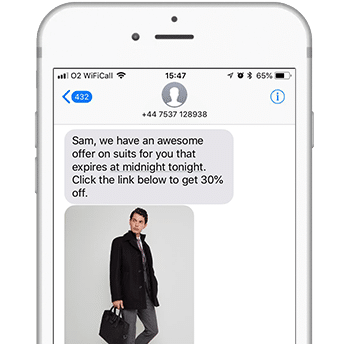 What Is The Best Email To SMS Gateway Based On Price?
Our email to SMS gateway review discovered that charges were dependent on the volume of text messages sent each month. Overall,  WholesaleSMS is deemed to be the cheapest provider as they offer a low rate for sending SMS messages, whether this be on a small or large scale. SMS Broadcast and Clickatell closely follow this low rate, being approximately 10% more expensive. ClickSend and SMS Tech charge around 35% more than the cheapest email to SMS gateway provider.
SMS Broadcast offers unlimited credit validity, no monthly fee, and the cost of a virtual number is lower than its other leading email to SMS gateway providers. SMS Broadcast and Wholesale SMS monitor prices of the SMS market to provide optimum text message solutions at a cost-effective price.

As shown in the graph below, when comparing the 5 leading email to SMS providers available to USA businesses, Wholesome SMS is 35% to 40% cheaper than SMS Tech. The provider with the most premium costs for monthly SMS distribution is Text It, which is not shown in the email to SMS comparison table provided.
Email To SMS Gateway Comparison By Reliability
As shown in our Email To Text Message Gateway USA Comparison Table, both SMS Broadcast and ClickSend provider reliable email to SMS gateway solutions and put a high priority on effective communication with their clients. Additionally, these providers utilise updated gateway technologies and have highly technical skills. Being an American based company, these SMS providers offer round the clock customer support.
Additionally, ClickSend offers an 100% up-time guarantee and a service level agreement guarantee, whilst the others do not quite meet this reliability measure. SMS Broadcast does not provide information about their up-time guarantee.  Up-time guarantees are effective for any marketing campaign to ensure text messages are successfully delivered.
As shown in the graph below, ClickSend and SMS Broadcast have achieves 100 in regards to reliability. This is followed by Clickatell and Text It. However, it can be seen that SMS Tech and Wholesale SMS are the least reliable email to SMS gateway providers.
Email To SMS Gateway Providers Reputation
Clickatell is a highly regarded email to SMS gateway provider, serving businesses of all sizes throughout USA and world wide. SMS Broadcast is also a world renowned provider, with headquarters based in Melbourne.
Both Clickatell and SMS Broadcast have a high level of customer care and quality of service, making them a leading provider in the SMS mass text message industry. They both have highly successful satisfaction rates in sending receiving text messages from computers and web browsers.
Overall, Clickatell has the best reputation, followed by SMS Broadcast. The ratings for all 5 email to SMS providers are shown below.
Email To SMS Gateway Features
SMS API
An API, or an Application Program Interface, are tools used by email to SMS gateway providers to build software applications. An API is integrated with a web browser or web server and will specify the way the software component interact with servers. This technology is what enables the ability for email to SMS services to change and customise an email to text message compatible format and sent to audience's mobile phones. This allows businesses in the US to send text messages to individuals or a mass group of phone numbers in a email address book or data base. The email to SMS providers will give instructions on how to send personalized emails through platforms including Gmail, AOL, and Outlook, or through external or internal softwares and CRM systems.
Wholesale Text Messaging
For businesses intending to regularly send large volumes of text messages, it is important to choose an email to SMS gateway USA provider which offers credits at wholesale prices, and use a quality gateway carrier to ensure that text messages are successfully delivered. There are a variety of services and routing options available for businesses that will make the wholesale cost lower. These lower priced routing platforms can deliver wholesale text messages at reliable SMS transmission speeds. However, businesses should be aware of SMS platforms which use hybrid carriers from overseas, making the up-time guarantee lower than local telecommunication carriers.
Mass Text Messaging
Mass text messaging, or bulk SMS, is a way for American businesses to send large volumes of text messages at an allocated time. This will ensure that a marketing campaign, or communication promotion reaches the target audience. Text messages are a personal form of communication as it is received by the recipients mobile phone, and therefore most likely to be read immediately. Therefore, utilising an email to SMS provider will enable personal, two-way communication in real time, whether this be to individuals, or a mass number of audiences. Email to SMS gateway USA providers enable business's to store their messages, forward them, and provide delivery reports for tracking analysis. This enables businesses to review that text messages are successfully delivered to the correct mobile devices.

About Email to SMS USA Comparison Table
This email to SMS USA comparison table was created to inform American businesses about the world's leading SMS providers. The authors, have worked with some of the leading SMS Gateway providers and therefore have the knowledge to analyse the key selection criteria in a way that is easy to understand and compare the features, services, and prices of these SMS providers.
This comparison table and website is provided free of charge, however a commission may be provided to the author's if a businesses decided to pursue the servers of a text message provider. There is no advertising found on this site.
The key information provided has been formulated through the data found on the SMS providers' websites. Therefore, there is a chance that information could have been updated without any notice. If any data appears to be incorrect or out of date, please contact the authors here, and changes will be made immediately.