BulkSMS vs MessageBird Comparison
When investigating the leading SMS gateway providers that are available to American and global businesses, BulkSMS and MessageBird have been highlighted to be within the top 5. These are amongst the best mass text message providers due to their range of SMS features, competitive pricing, and 24/7 customer support. Small, medium, and large sized businesses should utilise the services offered by these SMS providers to create two-way communication between the business and customers or stakeholders. To learn more about why businesses should utilise SMS marketing in 2021, view the article here.
BulkSMS and MessageBird both have global API systems which can seamlessly integrate with existing business applications, or enable individuals to log on via any web enabled computer. With these API gateways, businesses can send the following types of SMS messages:
Time-sensitive alerts
Campaign messages
Appointment reminders
Staff rostering
Booking confirmations
BulkSMS vs MessageBird SMS Features
As discussed in our BulkSMS review and MessageBird review, the two SMS gateway providers offer a great range of SMS features for American businesses. These include:
Global SMS gateway API
Two-way communication
Multi-channel messaging systems
Short codes
Dedicated numbers
Delivery reports
Email to SMS
MMS
BulkSMS and MessageBird both provide the ability to send SMS messages from their API, web, email, or mobile. This enables businesses to send mass volumes of text messages to target audiences simultaneously, anywhere around the world.


Web SMS
A key advantage of the SMS gateway provider's features, is their Web SMS Application. This SMS feature offers businesses the ability to manage their contacts, campaigns, and messaging solutions all in one API, which they can access with any web-enabled device.


In order to learn more about BulkSMS' great SMS features, view our extensive Bulk SMS review or explore their website at your leisure.
View Review >>Visit Website >>
Pricing Structures of BulkSMS vs MessageBird
BulkSMS and MessageBird offer a pre-pay, or pay-as-you-go pricing structure which enables businesses to purchase the amount of SMS credits that they require. This can range anywhere from 200 messages to millions of text messages. The price per text message is dependent on the volume of messages the business purchases, and cheaper bulk rates apply.
BulkSMS
BulkSMS has SMS prices starting at $0.0380 per text message for approximately 200 SMS messages. This cost can be as cheap as $0.0321 per text message for 500,00 text messages, meaning that the full price would cost a mere $1605. BulkSMS does state that if businesses wish to purchase larger volumes, a customised, cost-efficient quote can be provided.


MessageBird
Overall, MessageBird is more cost efficient, with bulk SMS prices starting at $0.005 per text message. They also have additional fees for dedicated numbers and short codes. Inbound text messages are always free.
BulkSMS vs MessageBird Reliability & Reputation
Reliability of mass text message providers is measured by the level of up-time SLA (Service Level Agreement) guarantee. A provider which has a 100% SLA means that their SMS and customer service are available 100% of the time, without fail.
Whilst BulkSMS does not disclose a specific service level agreement, they do reassure a 100% money back guarantee. This enables businesses to receive a full refund if they are unhappy with the service provided by BulkSMS. MessageBird provides an 99.95% SLA guarantee, which is a highly reliable measure of their global SMS services.
These SMS gateway providers will use the best route to deliver the SMS message successfully to the end user, whether this be through USA telecommunication providers (e.g. Verizon), or a hybrid of USA and overseas mobile network providers.
Both BulkSMS and MessageBird have a privacy policy listed on their site, and claim that they are compliant with the laws and regulations of the United States.
When it comes to comparing the reputation of BulkSMS vs MessageBird, both SMS providers have highly notable case studies discussed on their site, with a respected global clientele base. Some of the key corporations that trust BulkSMS are shown below.


Customer Support Services & Reviews Of BulkSMS vs MessageBird
Customer Support Services
BulkSMS and MessageBird offer customer support for their customers 24/7 through the use of contact phone numbers (including an American based phone number), email support, FAQ pages, and offices around the globe. BulkSMS also provides online video tutorials that can be extremely beneficial for clients wishing to learn about their SMS services. MessageBird offers a free trial for their services.
Customer Reviews
According to Trustpilot reviews, BulkSMS is rated a 4/5 stars (as shown below), whereas MessageBird's services are rated slightly lower at a 3/5.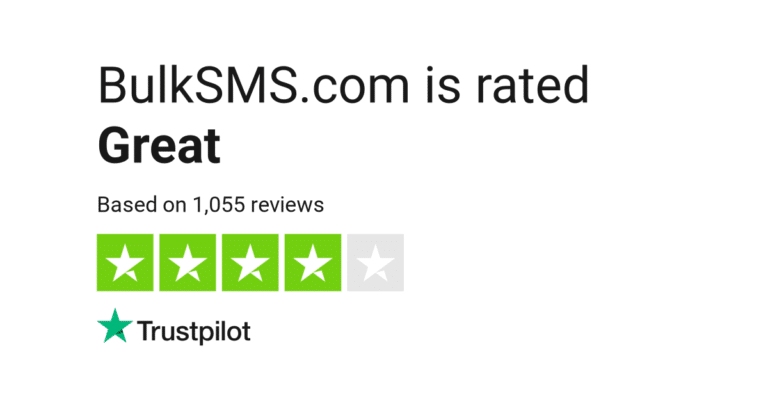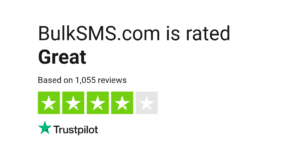 About SMS Comparison USA
This website was created by a team of highly skilled experts who have had previous experience working in the SMS industry. Having retired from the industry, the authors understood the complicated nature of comparing the various features and prices of SMS providers. Thus, SMS Comparison was created to help American businesses choose the right mass text message provider that will suit their SMS marketing needs.
The use of this website is completely free of charge as it was created independently. Therefore, should any of this information be incorrect, please contact the authors here and these issues will be amended.
To learn more about the leading SMS providers available to American businesses, explore our SMS gateway and mass text message comparison tables and view our website for insights.