Comparing ClickSend & Twilio
There is no doubt that the two most popular mass text message providers in USA are ClickSend and Twilio. These SMS gateway providers offer a range of SMS marketing services which enable American businesses to send and receive mass text messages to target audiences.
ClickSend and Twilio provide text message services through an SMS gateway API which permits text messages to be sent to large volumes of mobile phone users through any computer without the need to install any additional software.
Thus, with these mass texting services, businesses can create that all important two-way communication with customers, whether this be for sending alerts, appointment reminders, or upcoming campaigns. Discover why more USA businesses in 2021 are turning to SMS marketing with providers like ClickSend and Twilio to maximise their business success in our latest article.
ClickSend vs Twilio Features
Based on our ClickSend review and Twilio review, these SMS gateway providers offer a range of highly valuable features. These include:
Send and receive high volumes of text messages from any web-enabled computer
Add SMS functionality to business systems through a sophisticated SMS gateway API
Availability of phone numbers including toll-free and short codes
Provision of delivery reports and tracking history
Email to SMS
MMS and text to voice capabilities
Automated responses to customer text messages
ClickSend and Twilio enable businesses to send high volumes of text messages at any given time through an integration with an existing email software.
Both SMS gateway providers also provide a range of sophisticated marketing services including programmable voice API, email marketing, and more. They both also offer cleaning services to avoid unsuccessful text message delivery, and a focus on customers, rather than spam.


Pricing Structures Of ClickSend vs Twilio
ClickSend and Twilio both provide highly competitive pricing structures. ClickSend's prices a dependent on the number of text messages a businesses wishes to send each month. The SMS provider's cost per text message starts at $0.0093 for under 2,000 messages sent, and the cost gets cheaper for higher volumes. A key factor to highlight for ClickSend is that their inbound text messages are always free, and they claim that they will beat any cheaper quote.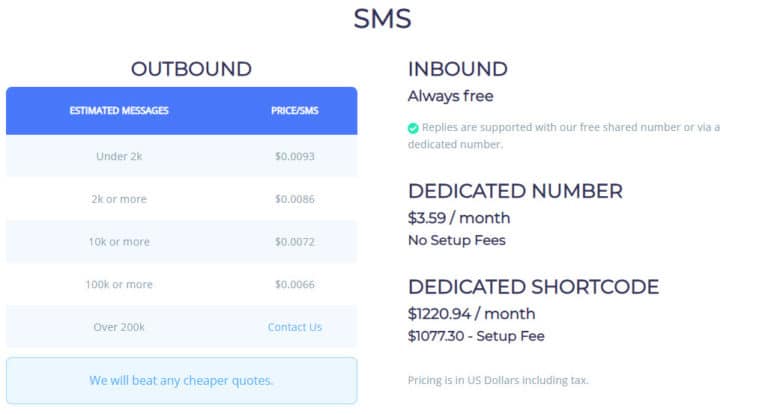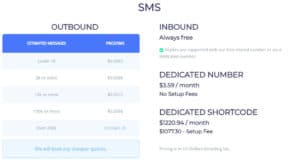 View Review >>Visit ClickSend >>
On the other hand, Twilio offers a pay-as-you-go SMS pricing structure starting from $0.0075 per text message sent. However, based on our Twilio review, it costs the business the same price to receive incoming text messages. Much like ClickSend, Twilio offer volume discounts for large corporations who wish to send a large amount of text messages per month. Twilio also offers committed-use discounts for their loyal customers. Twilio's pricing plans are catered towards large business enterprises, with pricing for 1 billion+ SMS messages costing a business just $0.0005 per text message. An example pricing structure for 5 million text messages is shown below.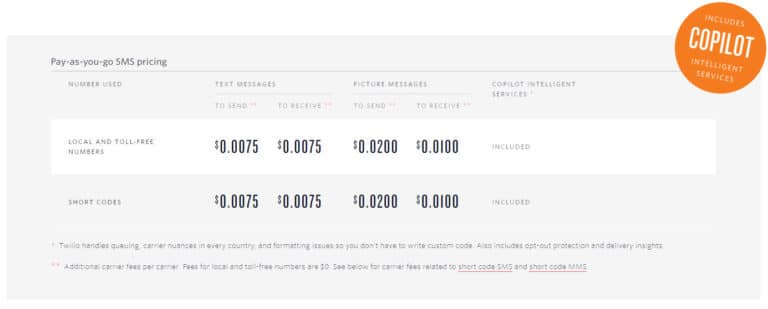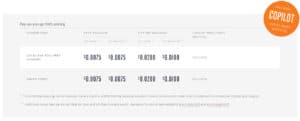 View Review >> Visit Twilio >>
ClickSend vs Twilio Reliability & Reputation
The two mass text message providers have API (Application Programming Interface) software which enables American businesses to integrate programmable SMS with their existing applications.
Overall, reliability is measured by the level of up-time SLA guarantee. ClickSend offers a 100% uptime guarantee, as well as an 100% money back guarantee, whereas Twilio trails slightly with a 99.95% SLA guarantee.
ClickSend is compliant with the American SMS marketing regulations, including the Telephone Consumer Protection Act (TCPA), and the CAN-SPAM Act. This is not highlighted on the Twilio website.
The SMS gateway providers both have highly reputable features within their business models. ClickSend highlights their premium and hybrid routing options, which works with America's leading telecommunication providers, as well as global providers to deliver SMS messages in the most effective way. Twilio highlights that their API is built for developers, enabling them to build an app that works with their business models to easily send and receive SMS and MMS messages from their devices.
Both bulk SMS providers have a high level of reputation amongst large global corporations. ClickSend has clients including McDonalds and Amazon, and Twilio has customers such as Coca-Cola and AirBnB.


Customer Support Services Offered By ClickSend vs Twilio
ClickSend provides 24/7 support a range of contact numbers for businesses world wide, including an American phone number. The SMS provider also features social media links and a live chat option on their website to ensure that customer's have a range of ways to contact them. A key feature of ClickSend is their provision of a free trial for American businesses who wish to try out their SMS services.
Twilio has a USA contact number which customers can call during business hours (Monday-Friday 9am-5pm). However, if clients wish to contact Twilio outside of these hours, a contact form is provided on their website.
Overall, both SMS providers receive an average of 4.5/5 out of thousands of customer reviews.
About SMS Comparison
This SMS provider comparison page was created by a team of experts who have previously worked in the SMS industry. During this time, the authors have realised that businesses need an easy way to compare the complicated features and services provided by leasing mass text message providers.
This SMS gateway review has been conducted independently, therefore is free of charge. If any of the information is found to be incorrect, please contact the authors here and changes will be made as soon as possible.
View SMS comparison's full SMS gateway or mass text message comparison, and explore our site for more information on the leading mass text message providers available to American businesses.