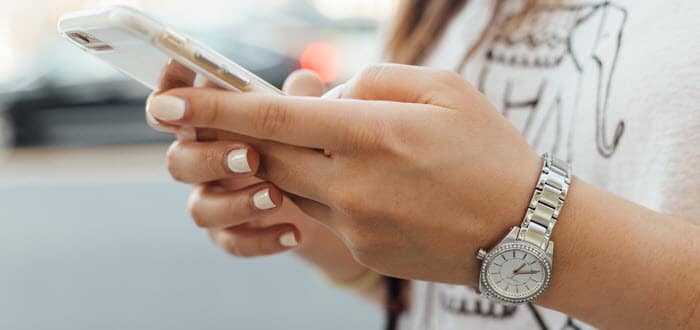 The Growth Of Text Messaging For Success
In today's fast-paced modern society, businesses need to keep up with upcoming trends, technologies, and (most importantly) customers.
So, here comes the age old question. If we want to communicate with our customers, how do we do it? Of course, we can get into the nitty gritty and come up with a whole SWOT analysis to weigh up our options – or, we can simply send them a text message.
Think about it this way – Did you send or receive a text message today? In most cases, the answer is probably yes. And no, I'm no mind reader, I just know like 98% of adults in the US, you have access to mobile device with text messaging services. This just shows the widespread adoption of mobile technologies.
Today's customers are both as smart and cynical as ever, having the availability of world-wide information at their fingertips. Therefore, communicating to them correctly is pivotal for any good business to thrive. With the rise of social media, instant messaging, chatbots, and email marketing, it's easy to overlook text messaging as a powerful form of communication for businesses in 2021.
Text Messaging Statistics 2021 In USA
Statistics have shown that 98% of all text messages are opened, and 95% of text messages are opened and responded to within 3 minutes of being delivered.
These figures speak for themselves, especially in comparison to emails, which only have a 20% open rate.
Additionally, 9 out of 10 consumers would like to communicate with businesses through text message, whether this be through sending alerts, reminders, back and forth communication, etc.
Moreover, 75% of customers would like special offers sent to them via text message, and CTR for these sorts of text messages are much higher (9.18%), compared to other marketing channels such as Facebook (0.90%) and Google Adwords (1.91%).
It has also been reported that customers are 64% more likely to perceive a business in a positive light when they have directly communicated to. What you're probably thinking now is, aren't phone calls the best, most personal way to communicate with customers one on one? To put it quite frankly, phone calls are becoming a thing of the past when it comes to business to consumer communication. If given the option between the two, over 50% of consumers would prefer text messaging for customer support rather than phone calls. What's more is that US consumers are 5 times more likely to send and receive text messages than phone calls.
So, if those figures haven't made you jump onto the text messaging bandwagon, here is a handy infographic that explains a little more: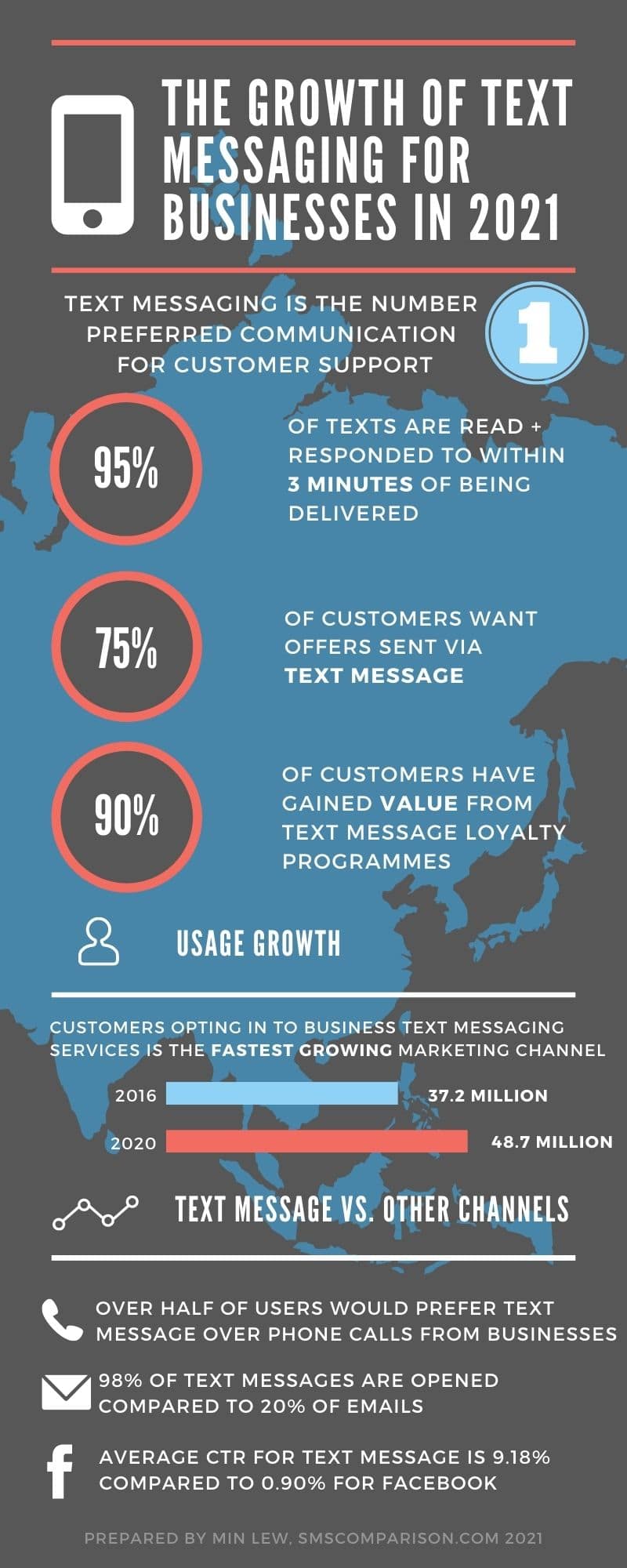 Now that you've learnt just how important text messaging is for businesses in 2021, how do you put this knowledge into action?
Making Text Messaging Work For Businesses
In the US, there are a variety of effective mass text messaging, text messaging gateway, and SMS providers that make it easy for any business to send text messages to their targeted audiences, whether this be to specific niches at specific times, or bulk messages for large scale campaigns.
These text message providers will allow you to send personalized text messages directly to the consumer, offer new products or services, send reminders and confirmations, and even enable consumers to reply to the message for two-way communication (as shown below).
With a wide range of options, providers, and uses, the text messaging industry can be overwhelming and confusing at times. Luckily, at SMScomparison.com, we make it easy for any business, large or small, to compare different text messaging providers and their plans, to choose the best option for you and your objectives. With our simple comparison tables, you can compare features, prices, reliability, and customer service between the most trusted providers in the US.
Ultimately, text messaging is becoming as important as ever for the year 2021, as consumers bombarded with a plethora of digital media. Businesses must utilise the simplicity and effectiveness of text messaging services in order to directly communicate with their customers, target niche audiences, and create positive customer relationships.