What Is A Bulk SMS Price List?
Once of the first questions a business will ask when investigating mass text messaging providers is regarding the bulk SMS price list, an any additional costs and fees that may be incurred. By using this bulk SMS price list comparison on SMS Comparison USA, a business is able to compare the various costs of the SMS solutions provided by the leading providers.
It should be noted that these prices are subject to change, therefore it is recommended that one checks the providers side before engaging in their services.
This page reviews the best mass text message providers, along with their reputation, success rate, and ability to send SMS messages worldwide. Each aspect of price is broken down and discussed below.
Bulk SMS Pricing Structure
SMS gateway providers offer a range of pricing structures from pre-pay, post-pay, and pay-as-you-go. The costs of the SMS message will depend on a range of factors that must be considered, including:
The monthly volume of SMS text messages distributed
Set up charges (if any)
Dedicated numbers
Short codes
Two-way messaging services (costs for inbound and outbound messages)
Delivery reports
Payment structures of either a monthly and long-term basis
Contract duration and requirements
Other fees on-top of daily usage
The pricing structure that works best will depend completely on the business and their SMS marketing requirements. For example, a smaller firm may want to choose a pay-as-you-go SMS cost structure as this will enable them to only purchase the smaller amount of text message credits that they require. Whereas a large corporation may want to engage in a monthly or yearly pricing plan which will give them a large amount of SMS credits per month at a discounted rate, which they can use for their automated messaging campaigns. An example of a pay-as-you-go pricing structure from ClickSend is shown below.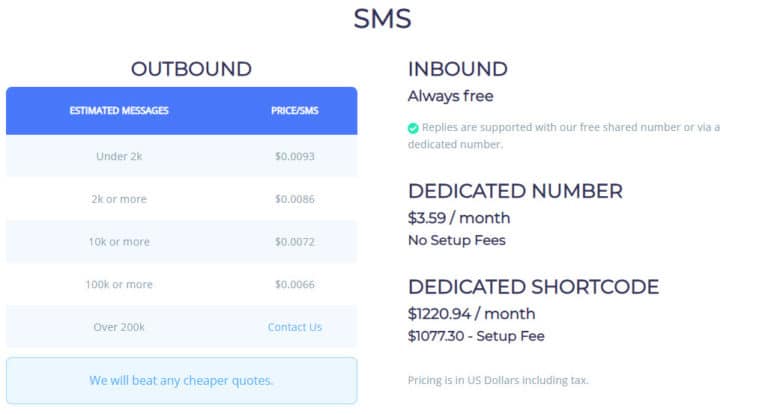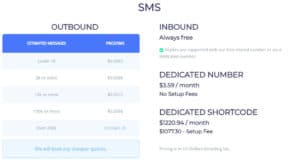 Which Provider Offers The Cheapest Bulk SMS Prices?
After reviewing the cheap bulk SMS price lists provided by the best mass text messaging providers available to American businesses, the authors found that ClickSend offered the best value SMS service, for a number of reasons. Whether a business was small, medium, or large sized, the provider offered extremely affordable SMS prices, with no contracts and set up fees. What is great about this provider (unlike many other SMS gateway providers), ClickSend does not charge for inbound messages. This enables businesses to conduct two-way communication with recipients as the recipient is able to reply to text messages with no extra charge.
Additionally, ClickSend offers a price match guarantee, as they claim that they will beat any cheaper quotes on SMS pricing. The provider also regularly checks their competitor's prices to ensure they adjust their price per text message to meet the demands of the industry and provide the best possible costs for their clients. ClickSend also provides a free trial which enables businesses to try out their SMS solutions using free SMS messaging.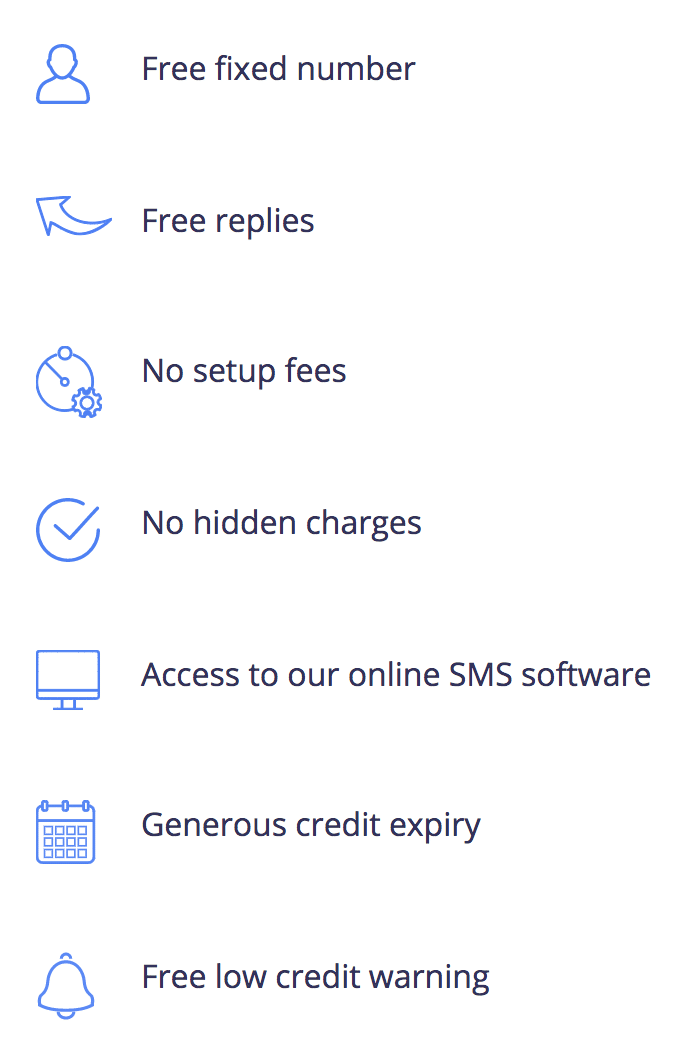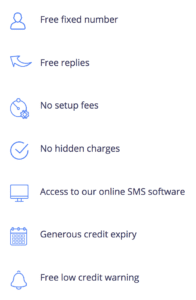 Two Types Of Bulk SMS Gateway Prices
In terms of SMS gateways, there are two main distribution methods; Direct (or Premium) and Hybrid (or Grey) gateway pathways. Businesses that require a high level of timeliness and reliability should utilise Direct gateway carrier systems, although they are higher in price.
The major difference between a Direct and Hybrid gateway is the pathway used to reach the end user's mobile phone. A Direct gateway utilises reputable American telecommunication providers such as AT&T, Verizon, and T-Mobile, whereas Hybrid gateways will use a combination of American and overseas mobile providers. Therefore, Direct gateways are more efficient, and will be more likely to send SMS messages within a matter of seconds, whilst keeping confidentiality and privacy at the forefront.
On the other hand, Hybrid gateways utilises overseas telecommunication providers that are cheaper, yet are less reputable when it comes to delivering the text message quickly and within a certain time frame. Hybrid gateways are effective when SMS marketing messages are not time sensitive, as the message will have to be sent from the USA to the international carrier, then rebounded back into the SMS gateway carrier in America.
The table below highlights the reliability of the bulk SMS gateway, taking price into consideration.
International Bulk SMS Price
If a business wishes to send large volumes of text messages overseas, there will be a different set of chargers. The use of global telecommunication carriers will vary in charges depending on the country and the volume of text messages sent. There are a range of factors that a business should consider when engaging in international mass text messaging. These factors include the SLA guarantee, the reliability of the SMS gateway, and the confidentiality and security of sending SMS messages overseas.
About SMS Comparison USA
SMS Comparison USA is a free to use website for American businesses who wish to engage in SMS marketing to reach their target audiences with two-way communication. The authors of this site have had previous experience in the SMS industry, therefore understand the difficulty of comparing the SMS prices, features, reliability, and other SMS solutions provided by each bulk SMS gateway provider. Therefore, this SMS Comparison site should be used to benefit American businesses when making the decision to choose a mass text message provider for their SMS needs.
Should any of the information on this site be out of date or incorrect, please contact the authors and changes will be made. It is hoped that using the SMS services of the leading USA SMS gateway providers will help with the customer engagement of any business.
To learn more about the leading providers, view the SMS gateway comparison, or mass text message analysis.