Introduction of Ez Texting
Ez Texting is a New York based text message marketing provider founded in 2006.
In 2013 CallFire acquired Ez Texting bringing greater scale to the company both within America and internationally. There are now over 50 team members worldwide representing Ez Texting.
Our Ez Texting review found the providers key strengths are:
Price with text messages starting from 3.25 cents
Extensive features including keywords and sign-up forms
Strong customer service including live chat

Skip ahead
How Does Ez Texting Prices Stack Up?
Our SMS Marketing USA Comparison review found that Ez Texting isn't the the cheapest SMS marketing provider but their prices were generally competitive.

Our Ez Texting review found they have two price categories:
High Use Price Category
For higher use customers Ez texting had four monthly pricing options:
Gold at 4c per message and 3.25c for additional text messages
Silver at 4.4c per message and 3.5c for additional text messages
Bronze at 4.5c per message and 4.0c for additional text messages
Pro at 4.55c per message and 4c for additional text messages
The other key differences are the amount of custom keywords that each provider offers which is explained in the features section lower on this Ez Texting Review.


Low Use Price Category
For those who use SMS Marketing infrequently or have lower sending requirements there are three Ez Texting pricing plans:
Elite offering 4.5c text messages, 3 custom keywords and 4 cents for additional SMS
Select offering 4.7c text messages, 2 custom keywords and 4.5 cents for additional SMS
Plus offering 4.9c text messages, 1 custom keyword and 4.5 cents for additional SMS

Features Ez Texting Offers For SMS Marketing
The strongest feature of Ez Texting is their advanced features for SMS marketing.
Below shows the 'top 5' features that the text message providers offers:
1) Keywords (Most Popular)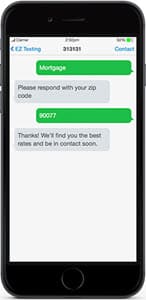 Ez Texting offers keyword marketing. This can be used to attract new customers to a database or sort exiting contact by interests, location or other common elements.
The example below shows how the word 'pizza' has been allocated for an acquisition campaign while to the right, the example here is the word 'mortgage'. Customers can text the number shown with the keyword advertised. This can prompt a reply SMS requesting more information or providing a voucher/coupon code.
The advantage is that these numbers can then be stored along with the keyword identifying how the customer was acquired. This can be critical for future text message communication.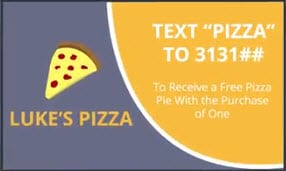 2) Sign Up Forms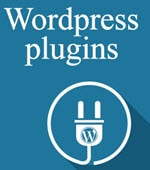 Ez Texting has dynamic signup widgets that can be customised for the businesses needs. This includes a wordpress plugin that can be easily added to any lead generation website. There is also:
A Facebook page widget which allows in just a few steps to add a lead generation form allowing fans to sign-up
A twitter integration which allows users to tweet messages to following including keyword call-to-actions to add users to the database list.
These can be added to social media sites or websites (there is even a WordPress plugin).
The benefit of these social media, website and WordPress sign-up forms is they automatically update the text message contact database once submitted.
3) Drip Campaigns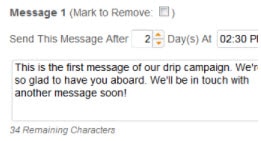 These SMS marketing campaigns allows businesses to automatically send text messages to a group of contacted based on a set time series. Keywords are not needed for this type of SMS campaign but can be ideal to segment different groups.
Often drip campaigns work based on the date when a user was first acquired by a company. They can also be combined with scheduling where users can determine when an SMS is to be sent by day and time which can be refined to the minute.
4) Personalization Text Messaging

Treating a database as a bunch of telephone numbers rather than people can lead to uses opting out and not engaging with the SMS marketing campaign. It's ideal to treat each number as a person and use fields within your database to customize text messages.
First and last name fields for example can be merged and added to provide a more personalized experience. Research has shown personalizing any marketing communication always leads to the best campaigns if done correctly.
5) SMS Marketing Templates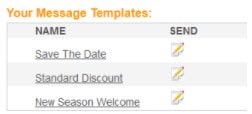 Text Message templates allow marketers to save their favourite messaging for future use. For future campaigns marketers can then simply select the saved template and compose the message.
Additional changes can be made to templates before sending them. Ez Texting also has templates based on the top industries to help markers achieve best practice SMS marketing campaigns.

Reliability Of Ez Texting
Reliability is the biggest issue of Ez Texting is the biggest concern of the text message marketing provider. Below shows the overall positive rating of Ez Texting but the negative elements revolved around Service Level Agreements and up-time performance.

Based on the lack of SLA's and guarantees for performance, this SMS marketing provider was rated one of the worst companies in this area.
Support Offered By Ez Texting of SMS Broadcast
Ez Texting offers excellent Customer service through a number of mediums including a telephone, e-mails and live chat.


Reviews of customers are positive in this area (with a few exceptions) which may be helped by the support of it's parent company CallFire.
Conclusion Of The Ez Texting Review
Overall, Ez Texting was viewed as having strong SMS features and customer support, making them ideal to those new to SMS marketing. Their pricing was competitive but there were cheaper providers out there as you can view with the text message marketing comparison table. Their biggest issue is reliability which means that if your looking for a time critical SMS provider or one where all recipients must receive their SMS, then another company may be advisable.

About This SMS Marketing Review
The Ez Texting review completed on the 4th of March 2018 was made based on an early comparison of SMS services leading to a comparison table. The information came from Ez Texting's website and third part review websites to view individual customer satisfaction. As no information came directly from the providers website and that the information is not 'fed' into this website, you should verify the information before purchasing a plan. SMS Comparison receives advertising revenue and/or commissions for featuring some providers. If you find any information that may require updating please feel free to use the contact form to provide refreshing advice.